Canopy is a worm's eye view for undergound train passengers
Wi-Fi on the Tube is one thing, knowing what part of the city you're in when you're 60m below the surface is another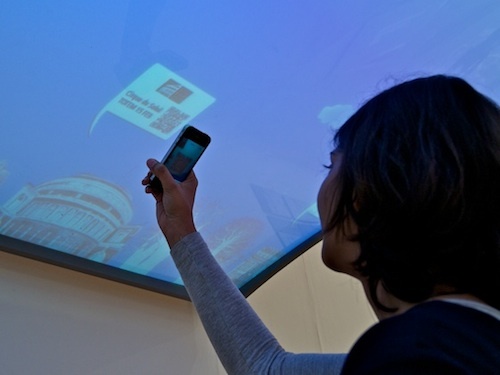 Gazing up at the ceiling of the Tube when you're trying to avoid eye contact with the sozzled tourist opposite you could get a lot more interesting with the Canopy concept.
Designed by Matt Batchelor, Amrita Kulkarni and Emma Laurin on the Innovation Design Engineering course at the RCA and Imperial College London, Canopy is a dynamic e-paper display fixed to overhead train panels that shows passengers illustrated landmarks and environments above ground.
Canopy also provides day and night skies, with 'ambient' weather animations, to indicate what's going on outside the train as well as information on journey progress. Ads, too, get a look in – passengers will see nearby events and promotions and be able to scan a QR code with their phones to buy tickets – for instance to Cirque du Soleil at the Royal Albert Hall.
There's hope for this kind of tourist-bait in London, thanks to Virgin Media's new underground station Wi-Fi service. The real world info needed to power Canopy would be stored on an embedded PC on the train carriage and updated at the depot or in stations and tunnels that have Wi-Fi.
Let's hope TFL and underground train bosses in other big cities make this a reality – we can't wait to see the Finding Nemo-style animations and boat spotting guides for travelling under rivers.
LG takes on Siri with Quick Voice – in Korea
Wacom outs Bamboo Splash graphics tablet
Best iPhone apps this week