Christmas Gift Guide – big kid
Stuff knows what you need to unleash your inner child this Christmas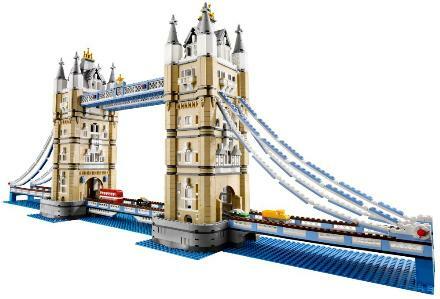 There's a child in all of us, just trying to break its Meccano shackles, bust through the LEGO walls and start playing with the debris. Help the kid escape using some of these Christmas gift ideas…
LEGO Tower Bridge
£295 amazon.co.uk
Send in the miniature cranes, get tiny builders taking sharp intakes of breath while making cost estimates and guard against natural disasters (by locking the cat out of the room). It's LEGO-building time. This time you need to get to work constructing a 102cm-long model of Tower Bridge. Set aside a long weekend (including plenty of tea breaks).
Giant Keyboard
Play out your Big fantasies by jumping around like a young, skinny Tom Hanks on this giant piano.
Magic Wand Remote Control
£50 firebox.com
Shouting "Expelliarmus!" won't send any fellow Harry Potter fans flying across the room, but it might change TV channels if you're also waving this wand around. Far more interesting than the usual universal remote, it can store 13 infrared commands that are executed using different swishes.
Rovio
£150 red5.co.uk
A Wi-Fi-enabled rover that can be controlled over the internet as either a spybot or securibot. See its movements through a head-mounted camera and hear what's going on via its microphone.
Star Wars Bath Robe
Get all Jedi-chic in this number from the Tataouine Autumn/Winter collection. Available in Obi-Wan brown or Vader black.
8Ball Cruiser II
£365 surfdome.com
It's not quite the Back to the Future hoverboard, but this electric skateboard is still great fun. The 600W motor gets it up to 22mph and it can go around 11 miles on one battery charge.
LEGO Dynamo Torch
£23 play.com
It's a wind-up! Nope, it's definitely a torch shaped like a LEGO figure. Oh, I see – yes, you wind the arm to power the torch.
Gyro Flyer
£25 firebox.com
Ickle remote-control helicopter that's easily manoeuvrable and has a metal body that'll stop it disintegrating upon the first crash landing.
Related stories
– Christmas Gift Guide – under £50
– Christmas Gift Guide – retro
– Christmas Gift Guide – winter survival
– Christmas Gift Guide – watches
– Christmas Gift Guide – kitsch
– Christmas Gift Guide – money no object
– Christmas Gift Guide – gaming