Dell – five new phones and a tablet leaked
In the world of tech we're used to the odd leak or two, but what can only be described as one massive Dell leak has hit the interweb showing the compa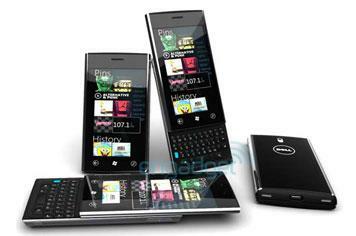 In the world of tech we're used to the odd leak or two, but what can only be described as one massive Dell leak has hit the interweb showing the company's mobile plans for at least the next year or two.
A total of six new products were dug up by Engadget, including five new, and we have to say rather lovely looking, handsets and another tablet as well. Check out all the leaks below.
Dell Lightning
A Windows Phone 7 Series portrait QWERTY slider, the Lightning is a spec superstar, and a bit of a looker as well. On board there's a 1GHz Snapdragon processor, 4.1-inch OLED screen, 5 megapixel camera with autofocus, and a microSD card slot with 8GB in the box.
There's also GPS, a compass, FM radio and full Flash support for viewing online video with no issues. Even better, there's some suggestion this phone could get an upgrade to LTE (4G) at then end of 2011.
That said, it's marked for release at the end of this year, meaning it could well be one of the first Windows Phone 7 devices on the shelves.
Carrying along the stormy theme, the Dell Thunder takes on another of the big OS' with Android 2.1 on board, albeit with a customised Dell UI over the top.
Also packing another 4.1-inch OLED screen, it's expected to have a 1GHz Snapdragon processor on board, support for Flash 10.1, and an 8 megapixel camera, with an LTE version also expected towards the end of 2011.
It's thought the Thunder will have a heavy social networking integration, with an "integrated web video Hulu app". We're keeping our fingers crossed Hulu makes it over here in time so we can take advantage of that as well.
The entry-level handset of the bunch, the Aero is also the closest to hitting the shelves in Q2. It will most likely run Android 1.5 with a "refresh" to 2.1 expected later in the year.
The design perhaps leaves a little to be desired, and the 3.5-inch capacitive touchscreen won't be to everyone's liking. There's also a slower 624MHz processor on board, but will no doubt have a lower price tag to match.
Out of the box it'll come with QuickOffice, support Microsoft ActiveSync and Exchange, have heavy social networking integration, and offer on-device photo editing.
With a rather interesting form factor, the Smoke is a tall device with a 2.8-inch screen and a full QWERTY keyboard underneath.
Even more interesting is that it will launch with Android Froyo, also known as 2.2, and has been promised to boast a price that "won't break the bank".
Set to launch in Q2 of next year, it seems Dell could be gunning for the business audience with the Smoke, with specs including an 800MHz processor, 5 megapixel camera, microSD expansion up to 32GB, Wi-Fi, Blutetooth and dual-mic noise cancelling tech.
Another Froyo Android device, the Flash really does look every bit the high-end device, built from a slice of "curved glass" at just 11mm thick.
The specs pack more of a mid-range punch, but are more than acceptable with a next-gen 800MHz processor capable of playing back HD video, 3.5-inch LCD screen, 5 megapixel camera with autofocus and microSD expansion up to 64GB (when available).
There's also 3G, Wi-Fi, and next-gen Bluetooth 3.0 connectivity, with a release date expected globally in the first quarter of next year.
The seven-inch sibling to the Mini 5, or the Streak, the Looking Glass will run Android 2.1 on a Tegra 2 processor, boosted by 4GB RAM. There will also be another 4GB of flash for storage, with an SDHC card slot for expansion up to 32GB on board storage.
An optional TV tuner module will allow you to watch Freeview through the device, and there'll also be a 1.3 megapixel front facing camera for video calling. It's set to launch in November.
So there you have it folks – six new products to look forward to from Dell. What do you think to it all, are there any that tickle your fancy? Let us know your thoughts below.
Via: Engadget