Eau du smellphone, s'il vous plait
This accessory from Chaku Perfume turns your iPhone into a fragrance dispenser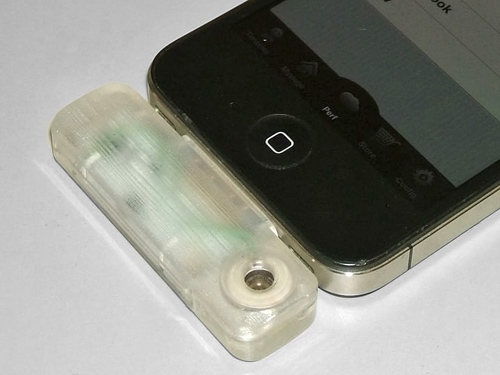 Just because you're sat next to someone on the bus who hasn't washed in what seems like weeks doesn't mean you have to suffer in silence. An iPhone accessory from the Chaku Perfume company has answered your olfactory prayers.
Attached to the bottom of your iDevice, ChatPerf and the accompanying app allows you to trigger a quick blast of liquid freshness that will hopefully block out all but the most malodorous smells.
If you're feeling devious, you could also sneakily attach the accessory to an unsuspecting friend's iPhone with a not-so-savoury smell in tow for comedy value. Of course, you have to hope they don't see or feel the rather bulky accessory now attached to their phone. Or if you're feeling kinder, you can remotely trigger your friend's ChatPerf with the app to send a pleasant smell wafting their way.
The ChatPerf is also quite expensive at US$60 and the atomiser can only hold one smell at a time, which means it's somewhat limited. Still, the option is there if you feel the need to massage your nostrils on the go.
[via Gizmodo]
Acer reveals Windows 8 all-in-one PCs with touchscreens
Foursquare local search no longer just for members