Everything you need for the perfect Oscars party
If like us, you're a bit of a film fan, you're sure to be watching the Oscars come Sunday night. You might even want to share the fun with some friend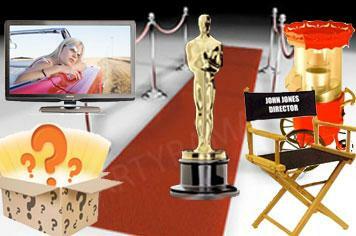 If like us, you're a bit of a film fan, you're sure to be watching the Oscars come Sunday night. You might even want to share the fun with some friends, but in true Hollywood style, you'll need to pull out all the stops.
First impressions count, so get that showbiz vibe going before your pals even make it through the front door. Get yourself 15 feet of royalty-grade red carpet from partyrama.co.uk for just £6.99 to make them feel special. If you want to go all out, you can always plump for the poles and velvet ropes set (£69.99) and pay an accomplice a fiver to pap the living daylights out of your guests with a big flashy camera.
As MC of the party, you want the best seat in the house. So make sure you get the recognition you deserve by getting yourself a personalised director's chair (£30) from personaliseonline.co.uk. It may not be the most comfortable seat in the house, but it's definitely the most important.
To make any movie-related event go with a bang, you need popcorn. See what we did there? Get your box of popcorn with a big helping of nostalgia and a liberal sprinkling of awesome with the Nostalgic Popcorn Maker (£20) from play.com. It will sit nicely on your coffee table atop its completely unnecessary wheels, popping your corn to perfection.
You may not have room for a cinema screen, but you can still bring the bright lights and glitz of Hollywood to your gathering. The Philips 37 PFL9604 37in LCD TV (£999) from Richer Sounds is a What Hi-Fi five star product so naturally serves up a great picture, but also uses its Ambilight Spectra 2 system to flood your wall with colours from the screen, making everything that bit more showbiz. After the big night, the onboard WiFi means you can stream blockbusters from your PC or access online video an YouTube vids.
When the big night is drawing to a close, you want to send your guests off with something special, and nothing does it better than a goody bag. Randomise yours by ordering some Mystery Boxes from Firebox (£19.99/£29.99) which contain two to four items at up to a £12 saving off RRP.
You can catch the Oscars on TV this weekend. First there's James King talking you through the nominations on ITV2 Sunday 2.50pm, and then the big event starts at 11.30pm on Sky1.
In the meantime, you can read our guide to the Oscar for Best Picture