Facebook iOS and Android apps get an Instagram style redesign
Photos take centre stage in the latest update to Facebook's mobile site and apps. Who saw that one coming?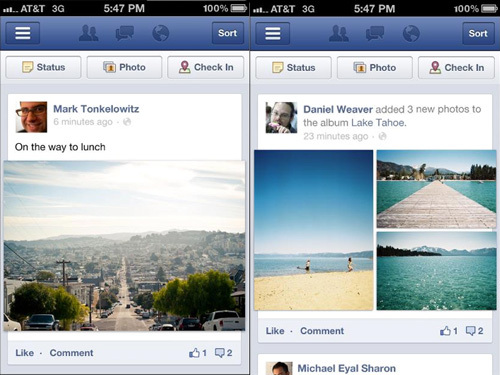 Facebook buys wildly popular, photo-heavy app Instagram. Facebook pays £633m for it. So it was only a matter of time till we saw some of the retro-styled photo app's influences creeping in.
And here's the first of them – on Facebook's mobile site and in updates available to its iOS and Android apps, Facebook has rolled out a refresh in the form of photos that are three times larger than they were before.
Single photos and three photo album previews in the news feed will fill your smartphone's screen widthways to save you time by making clicking – and waiting for images to buffer – unnecessary.
Zuckerberg's no doubt hoping that means more time swiping through your mates' photos, more time on Facebook and more advertisers queuing up to throw tasty new products in front of nearly 1 billion users.
LG Optimus 4X HD European release date announced
Win iTunes Festival tickets with Apple's official app
Amazon set to launch 8.9in Kindle Fire 2