Facebook updates iPhone app and mobile site
Facebook tweaks iPhone offering in the wake of its long-overdue iPad app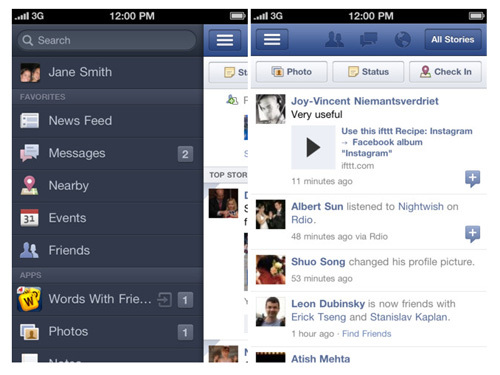 Not content with launching its long-awaited official iPad app, Facebook has also tweaked its other mobile offerings. Facebook has launched a new iPhone app, with a redesigned interface to bring it in line with its larger tablet cousin.
The notification system in Facebook for iPhone 4.0 has been tweaked, with a floating navigation bar showing notifications, messages and requests. You're now able to swipe to browse while keeping your place in the Facebook News Feed.
Facebook's search function's also been enhanced, letting you search through people, apps, pages, events and games without switching views. Yup, Facebook for iPhone now lets you access third-party mobile games and apps. Click on an app-related News Feed item and it'll punt you through to the relevant application if you already have it installed, or send you to the relevant App Store page if you don't. Grab Facebook for iPhone 4.0 now at the iTunes App Store.
Facebook has also updated its mobile sites, m.facebook.com and touch.facebook.com, to bring them in line with the mobile redesign.
Also
Facebook app finally let loose on the iPad
Does the iPhone 4S only have 512MB of RAM?