First impressions – Nokia C7
The Finns are on the rampage this week and they're clutching to those Symbian^3 reins while lassoing some nifty hardware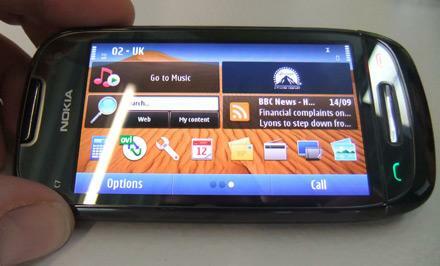 The C7 is the mid-range of the trio Nokia outed this week. Desireable as it is, it's a confusing proposition. Here's why…
If there was ever a formula for buying a Nokia handset, it was to go for the one in the middle. And there's no denying that the slender C7 is a desireable package. See that screen? AMOLED. But no ClearBlack tech like the C6 and E7. Still, it looks pretty good, though, eh?
Even the back doesn't have the smooth metallic finish of the cheaper C7. It's not a bad back, but it's weird that the more expensive handset would less desireable materials.
Marred by poor lighting as this shot (ironically) is, it's a good opportunity to focus (oh, the irony) on the 8MP snapper – the only one of the three new handsets to have Nokia's trademark Carl Zeiss optics.
There may not be ClearBlack, but the C7 came bang in the middle of our "how does it look in real mid-morning sunlight?" test, outdoing the C6's smaller (by a third of an inch) display by a good margin. Here's the comparison shot…
See? Sometimes you just get what you pay for.