First impressions – Nokia E7
Is it aimed at busy businessmen? Or tiny people who want laptops? We went undercover to find out... We're just going to get this out the way now – it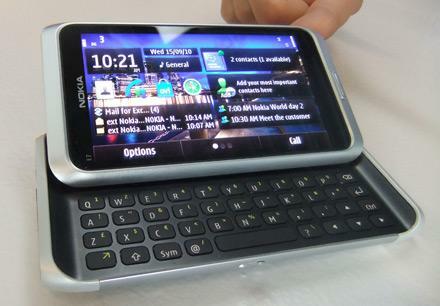 Is it aimed at busy businessmen? Or tiny people who want laptops? We went undercover to find out…
We're just going to get this out the way now – it's really annoying that slide out phones never balance on the table properly when they're open. Then again, not many of them have the redeeming quality of looking as good as Nokia's E7. 
It's also not as bulky as some sliders, and it's 4in screen really beams out from that rounded facade. 
Nokia's obviously been shopping in bulk for 8MP image sensors. The E7's joins the C6's and C7's at that resolution. The camera operation is great on the E7, too, with a the side-mounted screen lock slider acting as a zoom rocker. There's also pinch-to-zoom, naturally enough.
If the E7 rams anything home, it's that Nokia still knows how to make lovely hardware and pack it with kitchen-sink style connections. Case in point…
HDMI. Nice touch if you're planning to pipe those HD vids you've just shot to your HDTV. But really, when was the last time you plugged your phone into your TV? Just asking…