Five new Lumix cams from Panasonic
Like some kind of tech magician, Panasonic has pulled five spanking new Lumix cameras out of its top hat. Here's a rundown of the company's fresh ba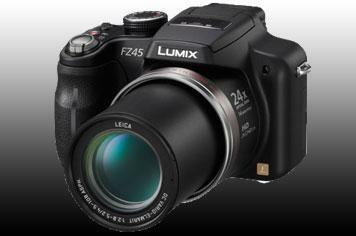 Like some kind of tech magician, Panasonic has pulled five spanking new Lumix cameras out of its top hat. Here's a rundown of the company's fresh batch of photo stars, one at a time…
Panasonic LX5
The replacement for the highly rated LX3, the LX5 is a premium quality compact sporting a Leica DC Vario-Summicron lens with a bright F2.0 aperture (at the 24mm wide end) and 3.8x optical zoom. It has a reworked version of the LX3's 10.1MP CCD sensor, offering a wider dynamic range due to boosts in sensitivity and saturation. You can also shoot HD movies in the AVCHD Lite format, and according to Panasonic the improved battery life means you can snap 400 images on a single charge.
Panasonic FX700
This 14.1MP hybrid totes a maximum F2.2 aperture lens that starts at a wide 24mm for landscape shots, but can zoom up to 5x optically. The bright aperture means you should be able to snap landscapes and moving subjects, even in low light conditions. There's a 3-inch LCD screen and manual controls for advanced shutterbugs.
Panasonic FZ100
This hybrid snapper features a huge 24x optical zoom and a 14.1MP sensor that can capture full HD 1920 x 1080 HD video. You can also shoot a high speed burst of 11 shots per second at full 14.1MP resolution, or 60fps if you switch down to 3.5MP quality. Video-wise, you can record at an incredible 220fps at QVGA resolution, and Panasonic claims the FZ100 has the fastest start-up of any camera in the industry. Panny also launched a similarly specced sister cam, the FZ45, with a slightly narrower lens, 720p video and a lower resolution display.
Panasonic FT10
The latest ruggedised snapper to join the Lumix range, the FT10 is one tough son of a gun: waterproof to 3m; shockproof to 1.5m; dustproof; and freezeproof to -10 degrees C. So it's perfect for the intrepid traveller and the butterfingered klutz alike. Features include a 14.1MP sensor, 4x internal optical zoom, quick startup time and 720p HD movie recording.
More stories from Stuff.tv
– Samsung debuts fresh 2View cameras
– 10 games you need to play this summer
– Monster Jamz unbreakable headphones