Fusion phone concept fuses analogue and digital
Sometimes we fall in love with a smartphone that's more than just a screen – like this rubber trimmed design concept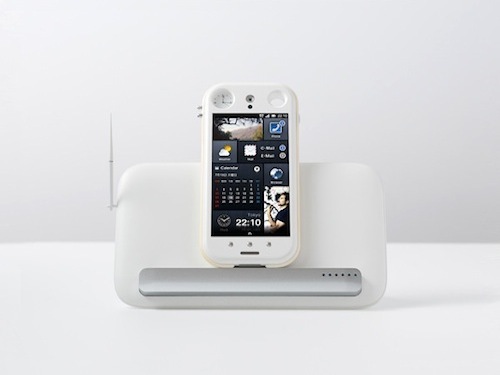 In a sea of sexy black handsets it's pretty easy to catch our eye with something a little more inventive. We got all gooey over the ADzero Bamboo phone not that long ago and this nautical Fusion concept (shown docked, above) is appealing to the wannabe deep sea diver in us.
With the kind of analogue touches we're used to seeing on fancy watches, the Fusion phone has a row of ball bearing-style buttons under the screen and big circular details – like the oversized rear-facing camera lens and (you won't believe this) an analogue clock face in the top left hand corner.
The rubber, anti-slip grip casing can be seen in white, black and a couple of pastel colours over at Yanko Design and should in theory make dropping a phone like this much less likely than with your silky smooth iPhone chassis.
But the Fusion phone is just a concept for now – designed by Jamie Hayon for the iida (International Interior Design Association). So unless we can get him to make us one for real, this one will stay an analogue fan's dream.
Pebble smart watch for iPhone and Android breaks Kickstarter record
Microsoft announces three Windows 8 editions
Just because they could – scent of MacBook Pro