Gaming Greats – Castlevania (1988)
A scream of agonised frustration vents from your lungs as you plummet to your death for the umpteenth time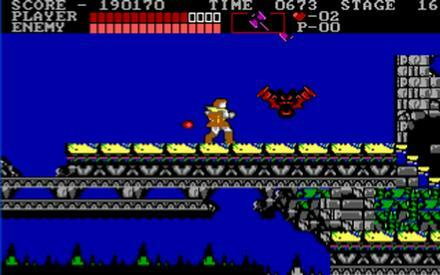 A scream of agonised frustration vents from your lungs as you plummet to your death for the umpteenth time. You would fling your controller across the room, but it's 1988 and your wired NES controller isn't going anywhere fast.
It's a good thing then that Castlevania gives you unlimited continues, because although the controls can lead to frustrating impromptu falls to your death, the sheer challenge of the game itself is the reason why it is simultaneously loathed and loved by many.
You play as Simon Belmont, a man with a whip and a mission; to traverse the perils of Dracula's castle and eradicate various ghouls and monsters. Along the way you fight mummies, vampire bats and even the Grim Reaper in an effort to reach a final showdown with the big man on campus, Dracula himself.
Holy water projectiles and other power-ups contribute to your ass-kicking armoury and you'll definitely need them; the bosses are insanely hard and you'll die more times than you ever care to admit. Despite this the rich visuals, the punchy soundtrack and most of all your pride keep you hooked until the very end.
Kids these days have got it easy with their accurate joysticks, automatic machine guns and rechargeable shields. Dust off the NES, let them have a crack at Castlevania and get schooled 80s style.
Contributed by Esat Dedezade
More Gaming Greats from Stuff.tv