Gaming Greats – The Secret of Monkey Island (1990)
There aren't many computer games as universally loved as The Secret of Monkey Island. Mention it to any gamer in their late 20s or 30s and they'll pro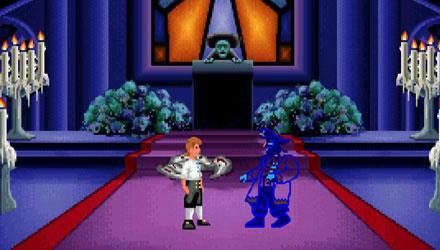 There aren't many computer games as universally loved as The Secret of Monkey Island. Mention it to any gamer in their late 20s or 30s and they'll probably break out in a wistful smile before reeling off one of the game's many memorable scenes or quotes.
Why? Because it's lovable in almost every way. Released in 1990, when adventure games were generally self important and ugly to look at, it was a light-hearted, effortlessly humorous title that looked absolutely gorgeous. And it was more than that: it was a genuinely engrossing adventure game, packed to the gills with puzzles and invested with a plotline that made you want to solve every one, even the most brain-manglingly tricky of them.
The Secret of Monkey Island puts you in the role of pirate wannabe Guybrush Threepwood, a likeable ingenue seeking his fortune in a fantastical version of the historical Caribbean populated by ghosts and swashbucklers. You follow Guybrush's adventures through a classic point-and-click system – something that doesn't rely on reactions and which anyone can master.
In fact, the game's accessibility may be another reason for its enduring popularity: unlike many of its contemporaries, Monkey Island wasn't stupidly difficult. Guybrush can't die, no puzzle can be messed up beyond recovery, and nothing he can do can ever trigger a Game Over screen. Some of the puzzles were tricky, but always eventually solveable.
It's testament to Monkey Island's brilliance that it's still played today. The Secret of Monkey Island: Special Edition was released last year on PS3, Xbox 360 and iPhone/iPod touch. It boasted rerecorded music, full voice acting and beautiful new HD graphics, but underneath this 21st century sheen lay the original game – and it was still a blast to play.