Garmin 605 & 705 give cyclists the Edge
Now sporting colour screens, the 605 (left) and 705 (right) are the latest Garmin GPS offerings primed and ready to adorn our Easton Monkey handlebars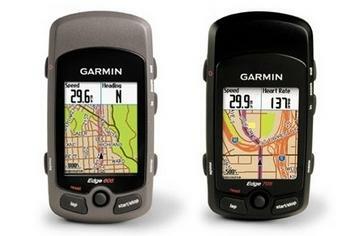 Now sporting colour screens, the 605 (left) and 705 (right) are the latest Garmin GPS offerings primed and ready to adorn our Easton Monkey handlebars.
Both are more like cycling sat-navs than their training tool forebears, with full colour mapping as well as all the workout features of previous models.
The 605 keeps track of your speed, distance and Mars bars burned while the 705 adds heart rate tracking, climb and descent. It'll also work with wireless meters to measure the power (that's torque and cadence rather than the cackling evil sort) coming from each of your pedalling pins.
Both get the incredibly cool Virtual Partner, which pits you against a set speed or one of your previous runs out on the same route. Then it's back home for a pleasant evening uploading the data for analysis on Garmin's website. Joy.
Essentials
Garmin Edge 605, 705
Price: £270, £330
On sale: December
Contact: Garmin
Related stories: