Gigabyte's Pegatron tablet plans spilled
Pegatron's top-secret Project Lucid has been photographed. And we can complete the spec-sheet for this month's expected UK launch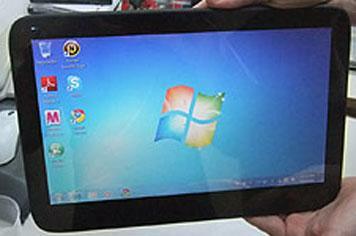 An Israeli blog has just posted a few shots of an 11.6in Pegatron called the MasterPad, a tablet that it says is launching in the promised land this month.
More exciting still is that we have word that a near-identical tablet will be launching in the UK through Gigabyte, also this month, and we've got a full spec run-down.
Coming in two versions – Wi-Fi and 3G – the new tablet will run on a 1.6GHz Atom processor, fed by 1GB of RAM and packing a 32GB storage tank.
The iPad-botherer will have a five hour battery life, 1.3MP cam, two USB ports (plus mini HDMI for 720p video output) and weigh 850g (or 890g for the 3G edition).
The new tablet, known only by its project name – Lucid – could ship with a variety of configuration options, including 64GB SSD, GPS and a light sensor.
We've heard about a couple of new tablets heading our way, but this one – running full-fat Windows 7 – has the potential to blow away the competition.  We'll reserve judgement until we've pawed a production tablet, but it's the most serious attempt we've seen yet on Apple's tablet dominance.
Excited? Let us know what you think in the comments below…
[Israeli story via Engadget]
More stories from Stuff.tv
– Video review – Fusion Garage JooJoo
– Tested – Fusion Garage JooJoo
– Rumour mill – BlackBerry BlackPad tablet
– Rumour mill – Viewsonic's Android tablet plans
– Apple to charge for iOS 4 iPad upgrade
– 5 of the best – Apple alternatives