Hands on – Apple TV (USA)
My Apple TV arrived over the weekend and I've had time to see turn it on, tune it in - and very nearly drop it back out again. Connecting the CD case-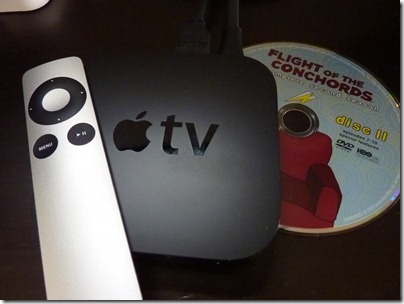 There are movies and TV shows to rent (and a few pilots and specials for free), YouTube and Flickr, plus Netflix for fans of second-run B movies. It's faster and smoother than the first gen Apple TV but there's nothing here to give Google the shivers.
The slimline aluminium remote is beautiful to look at. Its smooth buttons feel nice but aren't distinct enough for speedy menu navigation, let alone text input. Although you get basic fast forward and rewind functions, the slight lags when pausing and playing make it impossible to forget you're watching streaming video, albeit decent, sharp, colourful 720p streaming video.
The selection of films and programmes is understandably limited for now. While it's no competition for any of the cable TV set-top boxes' on demand offerings, you get a good choice of blockbusters and a few past seasons to choose from.
There are also thousands of streaming radio stations, but with no way of searching them or saving favourites, they're virtually useless (as well as being rather hissy).
The main reason I rushed out for an Apple TV was to stream media from iTunes – and here's when I nearly rushed it right out again. Choosing the Computers option from the main menu just brought up an endlessly spinning wheel.
When it was finally up and running, the interface is pretty compelling. Playlists and album art look great on the big screen, video (up to 1080p) streams fairly smoothly and sound quality is fine. However, I'm still struggling to get access to my photo library. (Yeah, I know I could upload them to Flickr but I'm really not that organised).
Overall, Apple's newest gadget is less of a 'must have' and more of a 'why not?'. It's cheap and cheerful, is a great way of accessing iTunes around the house and is a good enough way of renting media and browsing YouTube. But a magical revolution in your living room? Not this time, Mr Jobs.