Hands on – HTC Surround
One of the weaker, clumsier and heavier handsets in the Windows Phone launch still feels sharper than many recent Android devices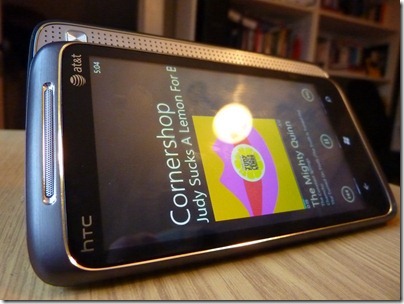 One of the more interesting Windows Phone 7 handsets to hit the streets this month is this 'audiophile' phone debuting on AT&T in the US. What the HTC Surround lacks in screen real estate (3.8-inches vs the HD7's 4.3), it makes up for in sonic chops, thanks to built-in Dolby Mobile, and capital letters, courtesy of SRS WOW HD.
Its chunky (13mm) waistline conceals a slide-out speaker and rather flimsy metal kickstand. Together, you're meant to be able to prop it up, browse to Zune and lean back with multimedia fun. Except that the Zune music player only works in portrait, so you have to crick your neck sideways to read track names. Also, both music modes sound so depressingly tinny you will want to rush back to Apple with both ears.
Audio gimmicks aside, the Surround is a very decent Windows Phone. Build quality is fine and a 1GHz Snapdragon chip keeps the Windows Phone experience butter smooth. The 480×800 display is great for surfing, browsing and games, and even the over-enthusiastic HTC Hub has a few worthwhile apps – such as a brain-damagingly crazy weather screen complete with microscopic rain radar.
Photos from the 5MP camera are bright and colourful but suffer from the usual sharpening and noise reduction when viewed close up. They look great on the handset, though, and there's no arguing with the usefulness of the auto-upload to Microsoft's free SkyDrive service.
Overall, it's telling that even one of the weaker, clumsier and heavier handsets in the Windows Phone launch still feels sharper, fresher and more fun than many recent Android devices. The HTC Surround won't top anyone's charts but it shows that one bad note can't spoil the Windows Phone symphony.