Hands-on video – Vexia Econav 480
We're a eco-friendly bunch at the Stuff offices, and having embraced green gadgets in previous vidcasts, when we got the opportunity to take Vexia's E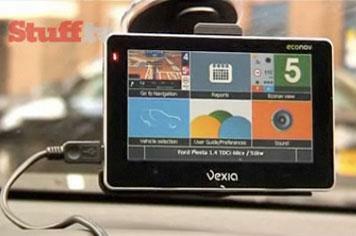 We're a eco-friendly bunch at the Stuff offices, and having embraced green gadgets in previous vidcasts, when we got the opportunity to take Vexia's Econav on a test drive, we thought we'd see how it sized up.
As one of the newest additions to the Econav green sat nav range, the Econav 480 packs a 4.3-inch screen, and like its range siblings will warn you of un-green excessive acceleration and braking.
It'll also give you graphical indications when you're approaching or exceeding a speed limit, and when is the most efficient point to change gear to help you keep your fuel consumption in check.
For accurate results, you get to choose your specific car model before you get going, and Vexia says that if followed carefully, it could help you save up to 15% off your fuel costs.
Take a watch of our hands on video giving the Econav 480 a test drive and how it works in practice – if it's up your street you can bag it in a smaller 3.5-inch screened version, the Econav 380, as well.
Both are available with just UK & Ireland maps, or with European maps priced at £179.99 and £209.99 respectively for the 480 and £149.99 and £179.99 respectively for the 380.
As always, make sure you leave your thoughts below – do you think you'd listen to a sat nav telling you how to drive?