HTC One vs iPhone 5
We pit HTC's latest flagship Android smartphone against the stalwart that is the Apple iPhone 5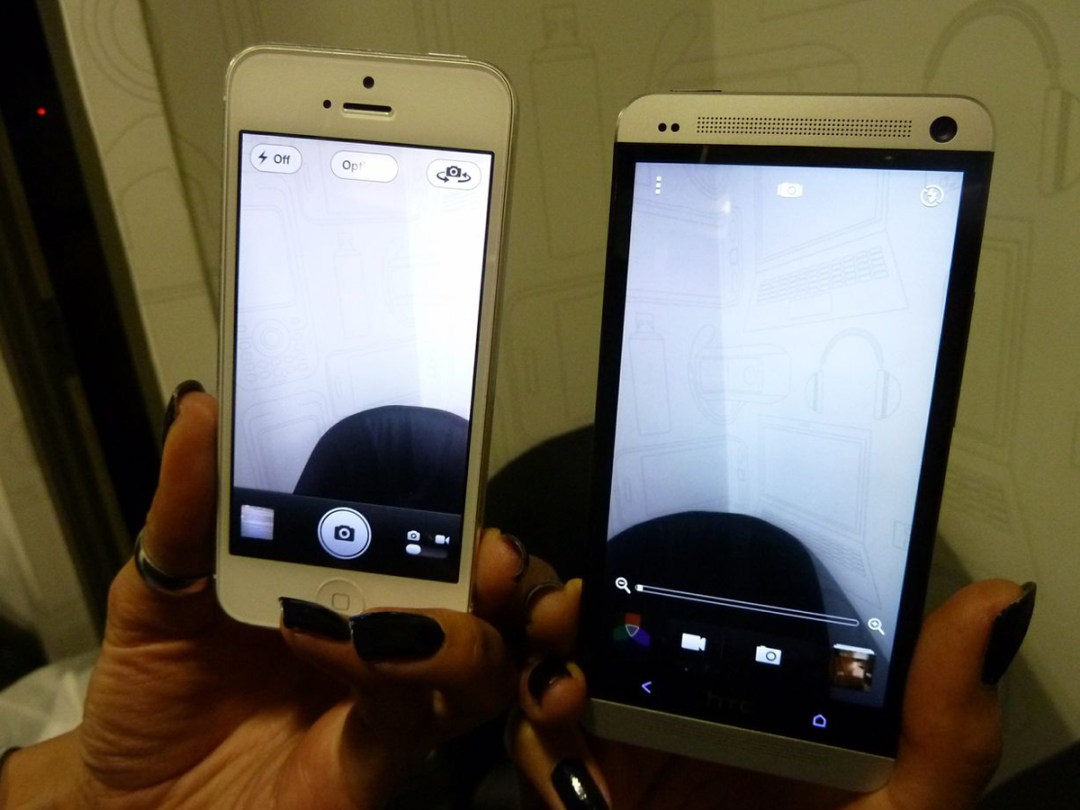 HTC One vs Apple iPhone 5 – fight!
As HTC's flagship product and successor to the One X, the One has big shoes to fill. It'll also have to take on the likes of the Sony Xperia Z, the Samsung Galaxy S3 – and, of course, the Apple iPhone 5. In this fight, it's the turn of Apple's finest to take on the Taiwanese newcomer.
HTC One vs Apple iPhone 5 – build and design
The iPhone 5 is a svelte 7.6mm deep (versus the HTC's 9.3mm), a paltry 112g in weight (compared to the One's 143g) and constructed from anodised 6000 series aluminium and either ceramic glass or pigmented glass, depending on whether you sprung for the black or white option. It looks and feels the part, but its easily-chipped diamond-cut edges do suggest you should hide it in a case, which is a shame. The HTC One's aluminium unibody looks pretty solid (and plain pretty) – and lacks the prissinesss of Apple's chamfered design… we'd fancy the HTC to win in a dust-up, but that big old screen could be a weak point. Talking of which…
HTC One vs Apple iPhone 5 – screen
Looking at the specs, the HTC One is a clear superbreed of the smartphone stables. It packs a 4.7in full HD display, suggesting HTC believes the current trend of 5in-plus displays is too much for Johnny consumer — and perhaps rightly so. Expect impressive detail, accurate colours and crisp text thanks to a 468ppi (pixels per inch). In the iPhone corner, we have the tried and tested 4in Retina Display which makes it more pocket-friendly, but detail is less impressive. A resolution of 1136×640 pixels equals an impressive but inferior ppi score of 326ppi. Whether or not your naked eye can tell the difference, however, remains to be seen. On paper, the HTC wins.
HTC One vs Apple iPhone 5 – cameras
The iPhone 5 packs an exceptional camera with autofocus, face detection and a panorama mode. In smartphone Top Trumps, 8MP isn't a big brag, but the iPhone has one less card to fear now that the HTC One has arrived with a 4MP camera. We all know that fewer megapixels equals better low light capture and less image noise, but whether the HTC's "ultrapixel" cam can prove size isn't everything remains to be seen. We'll be testing it alongside the iPhone 5 in our full review, but until then we're holding our tongue on this low-res smartphone camera battle.
HTC One vs Apple iPhone 5 – power
The HTC One is no slouch in the power department, with a 1.7GHz quad-core Snapdragon purring under the hood, a 2,300mAh battery in the tank, 2GB of RAM and at least 32GB of storage. In the Apple corner, the A6 processor (clocked at 1.3GHz), 1G of RAM and a 1440mAh battery are completely outclassed, even if Apple can claim better software optimisation with iOS. No contest here, it has to be said, particularly as we think you'll find HTC's Android skinning skims along pretty nicely on its new hardware.
HTC One vs Apple iPhone 5 – verdict
Sure, it boils down to whether you prefer iOS or Android, but when it comes to bang for buck, the HTC One is far better specced than its Apple rival. Processing speed, display quality, battery longevity – it's a cakewalk for the newcomer. We'll pin down a firmer verdict when we've had a better chance to test that camera, but the R&D department in Cupertino had better get their drawing boards out.
Read our iPhone 5 and HTC One hands on review.
You might also like
HTC One revealed with a… 4MP camera?