HTC One X+ hands on
We get our hands on the HTC One X+ with its faster processor, bigger battery and greater storage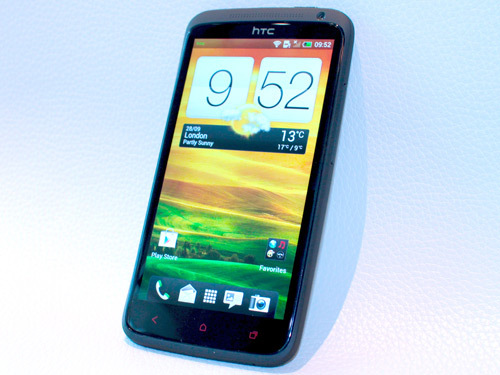 Owning a One X is very much like being in a long-term relationship with an anaemic 7-foot supermodel. She's big and strong, but she's very attractive, drawing admiring glances wherever she goes. Until she gets tired, which she does a little too easily. You want to take her gaming in the Tegrazone, but all too often she nods off on the bus. Taking this analogy (or possibly just the feedback from its customers) to heart, HTC has announced an upgrade that smoothes out the One X's niggles.
With the One X+, HTC has done absolutely nothing to change the physical design of the One X. It's the same smooth, attractive curve of matte plastic, although now it's black, with a few little red accents. What has changed are the insides: a 2100mAh battery (the same as the one in the Galaxy S3) that HTC claims will add 6 hours of talk time. When Apple added a higher capacity battery to the iPad, the weight gain was (just about) noticeable but if there is weight gain here, it's imperceptible.
The One X+'s display is the same as that of the One X, too, but the interface has changed: Jelly Bean is on the One X+ from the start (it'll be landing on the One X and One S soon), and HTC Sense has received a number of tweaks. There's a video hub that incorporates a new version of HTC Watch, putting your local video files and downloadable movies in the same place. If you're thinking of buying into HTC's video services then the MediaLink HD, the nifty wireless HDMI adapter that HTC launched with the One X, will definitely be worth a look: a three-finger swipe sends what's on your phone's screen to your TV.
Can you tell that the Tegra 3 quad-core processor has been clocked a little faster, running at 1.7GHz rather than the One X's 1.3GHz? Neither could we, but if you can find something really CPU-intensive to do on it then you might.
Aside from battery life, the other big issue we had with the One X was storage: no microSD slot meant that the phone's 32GB of onboard memory got used up pretty quickly. HTC was never going to saw a hole in this phone's unibody construction, but the One X+ bumps the space up to a roomier 64GB.
From an early fiddle, it looks as if the One X+ is… well, it's a slightly upgraded One X. If it were any other phone being upgraded this wouldn't be big news, but the One X is among the best you can buy. If this refined version does everything HTC promises, it might even nudge the Galaxy S3 off the Android top spot.
You may also like
Stuff Office Cat's Diary 02/10/12
HTC One X and One S – Jelly Bean incoming
Manfrotto adds a tripod and 24 LED light fixture to your iPhone