Icon – Audi A7 Sportback
Been stealing cars again?Those days are behind me. I've merely been dipping a toe into the petrol-slicked waters of the Audi A7 Sportback – all in the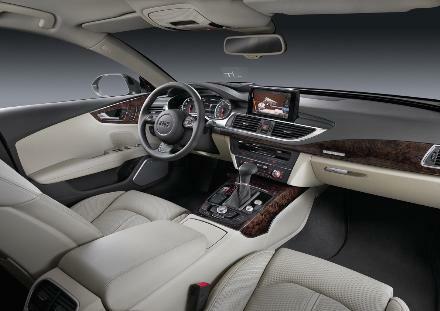 Been stealing cars again?
Those days are behind me. I've merely been dipping a toe into the petrol-slicked waters of the Audi A7 Sportback – all in the name of automotive gadgetry, of course. Specced up with the top-of-the-range MMI Navigation+ system, you get two hi-res screens: one behind the wheel with all kinds of drive data, and an Nvidia-powered 8in one in the centre of the dash for fun stuff. A SIM slot hooks it into Google Earth for 3D landscapes, and also provides local search. A new context-sensitive touchpad with handwriting recognition and voice control make search entry a doddle, too.
Okay, enough of the sat-nav. What else?
Well, a 60GB hard disk offers 20GB space for tunes (yes, more would be nice), while there are two SDHC card slots plus USB and iPod dock connections. Spec the Advanced system and these all feed a suitably awesome 1300W, 15-speaker Bang & Olufsen hi-fi, with "acoustic lens" treble-spreading tweeters smartly adorning the dash.
Even my old banger's got sat-nav and a stereo
How about wireless tech? The A7 is a mobile Wi-Fi hotspot, so passengers can browse as you go. Bluetooth with A2DP audio streaming is also present. I had an Android mobile hooked up to the Wi-Fi, streaming Spotify music from the internet to the stereo via A2DP. They call it living the dream.
Great. What if I actually want to drive the thing?
Beyond entertainment, the A7 remains fully loaded: a Predator-esque night-vision camera up front prevents you knocking over drunkards in the dark, a rear-facing camera helps with reversing and there's an unnervingly clever self-park feature that analyses spaces and steers you perfectly into the spot. The radar and ultrasound sensors and cameras offer other benefits: lane assist helps stop you from ploughing into cars in your blind spot, and adaptive cruise control uses a 'pre sense' system to automatically brake for you when you're approaching a hazard. Plus there's a head-up display. Yes, you read right.
Sounds expensive…
Start hunting down the back of the sofa – you'll need at least €51,650 (or €58,600 for the 300bhp, 3.0 TFSI quattro that we drove). But look at those gadgets.