IFA 2010 – Gear4 UnityRemote hands-on
Gear4's universal remote app and wireless transmitter for iOS could have been crafted in Apple's own labs. We dive in for a closer look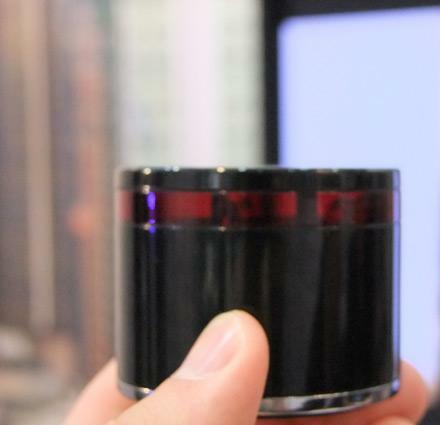 Away from the glare of 3DTV screens at IFA, Gear4 quietly outed its UnityRemote app for iPhone. And you can colour us impressed – it's a true bit of gadgetry, done with aplomb.
We've seen universal remote apps before, but they've all overcome the iPhone's lack of infrared powers by using an ugly dongle, or even uglier case with the infrared transmitter built in. Gear4 noted that there was no need to attach the transmitter to the phone to change the channel, and it's busted out this neat solution.
The £100 cylinder you see in the picture is the wireless transmitter for Gear4's UnityRemote app. It contains five infrared transmitters that spray signal all over the room, meaning you don't need to have line-of-sight to make it work. You could stick it behind the telly, in theory, but we think it would make quite a handsome addition to the coffee table.
The app (this one is running on an iPod Touch) could have been made by Apple itself. It's highly customisable, so you can put more than one device on a single screen or assign controls to multiple gadgets, say powering off your TV and BD player at the same time. Cleverly, since the on and off signals are usually the same command, the app knows if you've already got something switched on, so it won't power off your TV when you fire up the Blu-ray spinner, in the above example. Clever stuff.
Here's part of the configuration settings. There are some 100,000 devices available from a database, but you can teach the app the codes for any other infrared controlled kit providing you still have the remote. The customisation can be quite deep if you want it to be, but it also looks like quite a fun project. We can imagine spending a Saturday afternoon happily toying with the wealth of settings and options. 
Here's a sample control screen. You can obviously set them up next to each other to scroll between, say, your TV and Blu-ray player. See that button on the bottom right? Tap 'Gestures' and you can swipe left and right to graze through channels or up and down to tweak the volume. There's no accelerometer functionality yet, but we definitely see that as one of the only things this app is missing. That and a plug-in dongle or extension case. Which is a good thing.
Here's the pairing button and USB connector. Codes can be downloaded via a PC and you can pair up to eight Apple products via Bluetooth. We're told the codes are kept on the transmitter rather than the app to prevent lag from long codes which take longer to send via Wi-Fi. Instead the app creates shortcut codes to make it work as efficiently as a regular IR remote. We'll be getting one of these in for a proper look soon enough, and we should have some video up on the site soon.