IFA 2010 – Toshiba Folio 100 hands-on
Toshiba has entered the single-screen tablet market with it's Folio 100 10-incher. And we've put our paws in play mode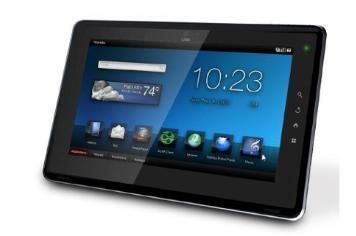 Toshiba's already had a stab at a tablet with the curious Libretto dual-screener, but the Folio 100 is a more plausible proposition, running Android 2.2. Let's take a gander…
Believe it or not, we did actually clean the screen on the Folio before we took this. Admittedly, only with some hot breath and a t-shirt, but this doesn't bode well for it's finger friendliness. The skinning (for instance, those tabs on the bottom left) feel like it needs a bit more work.
The back – on the other hand – hasn't a mark in sight. It's a plastic non-slip surface, but it's not that solid. You wouldn't want to step up to the crease facing Glenn McGrath holding it, that's for sure. And, in common with Apple's iPad, there's no cam here.
There's one on the front, though – a 1.3MP webcam for video calling (or checking your hair).
The Stuff team calls home… and takes a picture of Mum.
All the usual Androidy buttons are here, and optimised for landscape use. Unlike Samsung's Galaxy Tab, there's no haptic feedback here.
Tosh's media hub feels a bit old-fashioned, too. We got the impression that this tablet had been rushed out for IFA without having a final polish. There's no reason it won't be considerably slicker and smoother when it actually becomes available next month, but our first impressions were pretty lukewarm.