In detail – new Apple Mac Mini
The Mac Mini, everyone's favourite micro-desktop, has finally had a makeover – as well as a hefty upgrade. Here are the 5 things you need to know...&n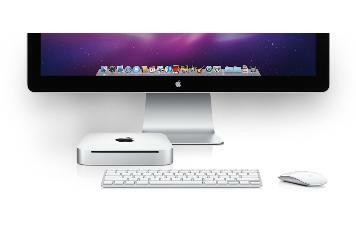 The Mac Mini, everyone's favourite micro-desktop, has finally had a makeover – as well as a hefty upgrade. Here are the 5 things you need to know…
All-new body
Apple's unibody construction helps the Mac Mini's compact aluminium enclosure squeeze down to just 7.7-inch square and 1.4-inch thin.
Round the back
The new Mac Mini has a back panel littered with an HDMI port and an SD card slot, as well as 4 USB ports, Ethernet and Firewire. Amazingly, the power supply has been integrated with the body, so there's no lumpy transformer to hide. Apple claims power consumption has been cut by 25%.
The joy of specs
As standard the new Mac Mini comes with a 2.4GHz Intel Core 2 Duo processor, 320GB hard drive and 2GB of RAM, while graphics performance has been doubled thanks to an NVIDIA GeForce 320M graphics processor. 
Prepare to RAM
More good news – the panel underneath is removeable so you can easily add more RAM (up to 8GB). There's also AirPort Extreme 802.11n Wi-Fi built in.
How much?
Okay, now to the price. You'll have to shell out £650 for the basic model – a bit steep, but you're paying for the luxury of style and miniaturisation. Oh, and maybe cutting your energy use and saving the planet. Maybe.
Related stories
– What will fall from the Apple tree on Monday?