Ionising Snaidero Greenhood cleans your air
Extractor fans are about to puff their last as an easier-to-install, cleaner alternative appears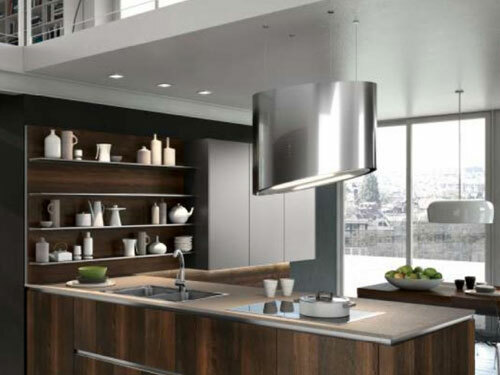 A cooker hood? Okay, it looks quite swish, but really, it's not that exciting, is it? The air ionising Snaidero Greenhood might sound mundane at first mention – but when you think about it as the replacement for the extractor fan this is a big jump forward.
Because the Greenhood doesn't need to be installed through a wall like a conventional extractor fan, it frees your cooker from the shackles of established kitchen design. Want to stick your cooker in the middle of the room? Now you can.
It'll also keep your air clean. The Greenhood – a collaboration from Italian kitchen maker Snaidero and appliance maker Falmec – uses a bipolar electric field that attracts volatile organic compounds (bad air to you and I), turning them into water and CO2. It'll even deactivate viruses, bacteria, and allergens while neutralising mildew, fungi, spores and tobacco smoke too.
So even while not cooking you can use the Greenhood to sanitise air. A leaf button on the side will turn from yellow to green as the air is cleaned to perfection. Expect to start seeing lots of new hood designs as this technology catches on – not that this one isn't gorgeous enough. Pricing hasn't been announced yet – but with savings on installation costs, and this being a new technology, we expect it to be through the roof.
(via Gizmag)
You may also like
Samsung Music Hub to compete with iTunes Match
Next Big Thing – underwater hotels