iPhone 5 parts assembled
Another day, another iPhone 5 leak – now you can see the new iPhone side by side with the 4S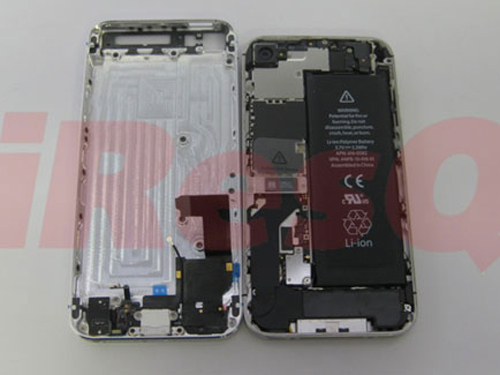 As the iPhone 5's rumoured September 12th launch date draws ever nearer, it's becoming increasingly difficult for Apple to keep the details of its new wonder phone secret. The latest leak to cross our radar is this snap, showing how all of the previous leaked parts fit together like one expensive puzzle – suggesting this could be the real deal.
It appears to confirm previous rumours that the iPhone 5 is going to be bigger than the current iPhone 4S with a 4in screen, yet slimmer thanks to the new thinner 8-pin dock connector. Meanwhile, the 3.5mm jack for plugging in your headphones has moved to the bottom so you'll be pulling your iPhone out of your pocket upside down.
Is this a big enough departure from the old iPhone? Well, unless you were expecting a phone with a Minority Report-style floating touchscreen, you should be more than happy – and there's always the chance that Apple will wheel out "one more thing" to surprise us all.
With all indications pointing to a September launch date for the iPhone 5, you don't have long to save those pennies.
[iResQ via Product Reviews]
Sony NEX-5R and NEX-6 Wi-Fi cameras snapped in the wild
Tangram Smart Mount – the coolest iPad speaker yet?
Everything Everywhere first in line for UK 4G