iPhone OS 4.0 rumour round-up
Apple pounced the iPhone OS 4.0 announcement on us out of nowhere this week, and tonight we'll find out just what Jobs and co have planned for the iPh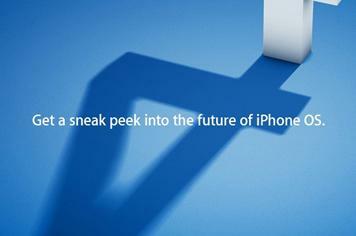 Apple pounced the iPhone OS 4.0 announcement on us out of nowhere this week, and tonight we'll find out just what Jobs and co have planned for the iPhone, and no doubt the iPad as well.
But being the impatient bunch we are, we've spent a lot of this week musing on what is in the OS' future, and the internet hasn't been too short of rumours either.
We've rounded up some of the best ones below – but what do you want from the 4.0? Let us know below.
OS-wide multitouch
We first heard about this back in January, when first details of 4.0 leaked out. This means multitouch capabilities such as pinch-to-zoom would be available throughout the whole OS, rather than just on maps, photos and in the browser.
Third-party multitasking
The main thing most people seem to want from the update is the ability to run a number of third party apps at once – we want to be able to listen to Spotify while browsing the web like those Android folk. Push notifications don't quite cut it, but we also don't want to see a loss in performance so will Apple be able to work it out? Rumours say an Expose-like functionality is in the works that would see you hitting the home button twice for a view of all currently open apps. Bring this to the iPad, and Apple might just solve one of the device's biggest downfalls.
Tweaked UI
Another rumour from back in January, which said we could expect some "graphical tweaks", and an easier to navigate, more efficient UI. It'll be interesting to see if this comes to light, and how – the iPhone OS has arguably one of the easiest to use phone UIs already, and its graphical layout has spawned a whole host of copycats. We're intrigued…
Global inbox
The iPhone OS already supports multiple mail accounts, but having to check each one individually is a bit of a pain. The rumour of a global mailbox in 4.0 would mean users were able to view new mail from each of their inboxes in one place. Very plausible, and very handy.
Homescreen contacts
Putting your favourite contacts onto your homescreen for one-touch dialling is something we've seen on numerous phones, and if this rumour is true, it seems Apple could be catching up. It currently takes three taps to dial a contact in your favourites menu. Call us lazy, but one tap sounds much more appealing…
Direct printing
Both iPad and iPhone owners are currently unable to print from their device, instead having to make do with sending the file to a computer to print it out for them. That's quite a pain, particularly for iPad users with docs to print from iWorks. Luckily, the freshest rumour from the pile is that 4.0 may support direct printing. This comes from support documents for the iPad that say "printing directly from the iPad is not currently available". Meaning it will be soon? Hmm.
The lack of a USB port on the iPad means you wouldn't be able to connect a printer up to it, but perhaps you'll be able to print over Wi-Fi or Bluetooth? We like the sound of that.