Lara Croft and the Guardian of Light
Back in the days of Duran Duran, neon clothing and yuppies, isometric arcade adventures were all the rage.For players of a certain age, the mere menti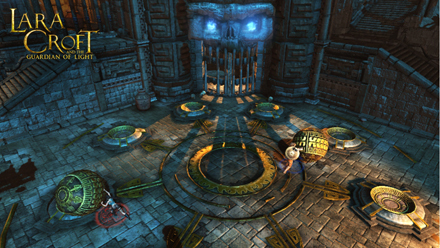 Back in the days of Duran Duran, neon clothing and yuppies, isometric arcade adventures were all the rage.
For players of a certain age, the mere mention of games like Head Over Heels, The Great Escape, Knight Lore and Sweevo's World will get them all misty-eyed behind their rose-tinted specs.
But now they no longer need to look back to the golden age of hairspray as Eidos has just released Lara Croft and the Guardian of Light, an isometric arcade adventure take on Tomb Raider.
As with the Tomb Raider games, it's a mix of puzzle-solving and tomb-exploring peppered with some shooting. But instead of spending hours looking at Lara's backside it's all seen from an isometric perspective.
All very retro.
As a single-player game it's decent old school fun with a dash of Diablo for good measure and a greater emphasis on shooting than normal for Lara.
But it really comes into its own as a two-player game, where you work together to blast away the demons unleashed by a curse and crack the game's various puzzles. And yes, in true retro fashion, you can play it in the same room.
For nostalgic gamers it's a chance to relive old memories, for everyone else an opportunity to find out why the oldies get all excited by all these isometric games.