LG punts 2010 Android tablet
When Samsung casually trotted out some pictures of its Android-based Samsung Galaxy Tab on Twitter, we knew LG couldn't be far behind.True to expectat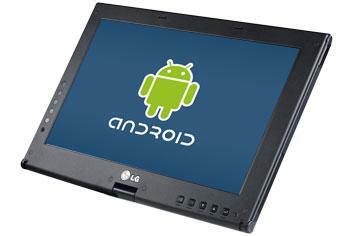 When Samsung casually trotted out some pictures of its Android-based Samsung Galaxy Tab on Twitter, we knew LG couldn't be far behind.
True to expectations, the South Koreans (who already have a Windows slate in the offing, seen at Computex) have confirmed that they're planning to unleash an Android tablet before the year is out.
We'd expect it to run Froyo (2.2) from the off, and – along with Samsung's similarly specced Galaxy Tab – give would-be Apple buyers pause for thought when they're writing to Santa this Christmas.
Both tablets should be rocking Flash 10.1, meaning there'll be no blockaded games and vids in your browser window. And that will be a justifiable dealmaker for plenty of tableteers.
What do you think? Will the iPad be freed from its limitations by web media moving away from Flash? Or will Android tablets have the last laugh? The comments box is in the usual place below.