Live from the iPhone UK launch
Steve Jobs has revealed full details of the iPhone's UK launch - and we were there to blog it live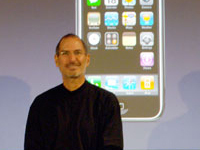 Steve Jobs has revealed full details of the iPhone's UK launch – and we were there to blog it live
12.16 Right, I've managed to get hands on with an O2 iPhone and, unsurprisingly, it's exactly the same as my imported phone except for the iTunes Wi-Fi Store icon (which sadly didn't work). Did learn a few more facts though – including the fact that O2's hotspot partner is The Cloud, which operates 7500 hotspots that are available to O2 iphone customers for free (well, kinda for free – you pay for it in your £35 a month contract). Also, Steve Jobs mentioned that 3G chipsets with low battery drain won't be available for 18 months. I hope he's wrong – I need a 3G iPhone.
All in all, the launch was everything I expected: a November 9 launch for the UK iPhone, a price of £279 for the handset and a subscription of £35, £45 or £55 a month depending on included calls and texts (data is unlimited on all, but subject to a 'fair use' limit no doubt). The only real surprise was the addition of Wi-Fi roaming. And the bad news – for me – is that Apple intend to close the hole that allowed the iPhone to back hacked. So I may not be using mine on Vodafone for very long… Fingers crossed it'll last until November 9!
10.40 Although today is a UK-only announcement, Apple will be in three more European countries 'next quarter' 
10.30 Responding to a question about whether the iPod Touch will steal marketshare from the iPhone, Jobs says they're different – 'The iPhone is a phone. And it does email.' In fact, he says, the iPod Touch will be a training ground for potential iPhone users. Not sure I quite buy that one, but if someone's going to eat Apple's market, it might as well be Apple itself. 
10.28 O2 is rolling out EDGE on its GPRS network, but it won't be fully complete in time for the launch on 9 November – in fact, it'll have just 30% coverage. Outside of this area you'll get crushingly slow standard GPRS. 
10.27 Steve Jobs on the hacked iPhone 'Some people will try to get in. It's our job to keep them out.' Better not apply any software updates to my iPhone, then! 
10.26 The wireless iTunes Music Store will be available on the iPhone at launch. 
10.23 The UK iPhone will be activated through iTunes just as in the US, throwing open the possibility of unlockiing it and using it with another network – although it's unlikely that Apple will allow this to happen long term as it will lose revenue from the contract (which is 18 month rather than US 2 year contract). 
10.17 We have confirmation from O2 that the 7,000 wireless hotspots (brand unknown) will be free to iPhone users – which is a great deal I think.
10.16 Jobs is now explaining why no 3G – and he's claiming that it's because the 3G chipsets would halve battery life. He says that EDGE is fine for google maps and email, but not so great for the web – hence the  iPhone having Wi-Fi
10.10 While I'm stuggling to get a data connection, the guy from o2 is talking about how great the network is, how great the iPhone is and how important the partnership with Carphone warehouse. There will be three tarrifs – £35, £45 and £55, all with unlimited data tarrifs 
10.06 It is available on O2; 8GB will be £269 inc VAT; on sale november 9
10.05 Customer satisfaction on iPhone is higher than any other Apple product
10.00 Steve jobs is actually here and he's bigging up the iPhone. Unfortunately our data connection here is pretty dodgy – so the idea of 'internet in your pocket' is kind of appealing right now.
9.58 Pretty much everyone is in, but there are still 2 minutes before the fun starts.
9.37 I'm now inside the Apple Store on Regents Street, watching my fellow journalists file in to take their seats for the announcement. No word yet on whether Steve Jobs will be here – though I kinda doubt it.
—-
The greatest gadget in the world – ever – is set to set to be unveiled in the UK at 10am. But which network will it be on, how much will it cost and will it be 3G? (O2, £250, no – in my humble opinion).
Tune in to my live blog coverage from 9.30am to find out. And don't forget to keep refreshing the page.
You can find our guide to the iPhone here.