Make Hollywood quality films with Polly Dolly
It's a simple as a flywheel and offers blockbuster style shots without melting your credit card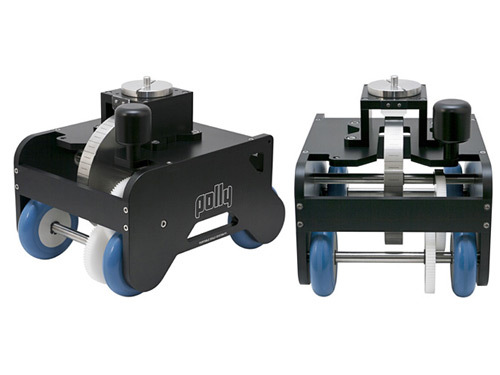 Meet Polly Dolly, a flywheel operated dolly for those movie-magic-filled sweeping shots that make even McG and Bay look like they can direct intelligently. And now you can use it too, well, you can soon.
When the Polly Dolly launches in a few weeks it'll set you back about US$1,600. Which sounds a lot, but you get what you pay for, and it's considerably less than a fully-fledged cinematic dolly rig.
Polly Dolly crams in a 15lb flywheel geared into the wheels, making for a super smooth start and finish without any jerking, at the push of a finger. It's only small, ideal for semi-pro film-makers using a DSLR like the Canon EOS C300 4K, Canon EOS 60D or Nikon D4 DSLR – all of which are perfect for great depth shots with smooth frame-rates.
And if you're spending that much on the camera you want a dolly that does it right, which is why the measured scale on Polly's perimeter is ideal for hitting the mark. Or even setting up stop-motion shots, if you fancy making the next Creature Comforts.
You may also like
Pentax K-01 interchangeable lens cam officially announced
iPhone 5 may launch on June 10