Microsoft Surface hands-on review
We went a-swiping and a-typing with Microsoft's new tablet at its launch event in New York today. Here are our first impressions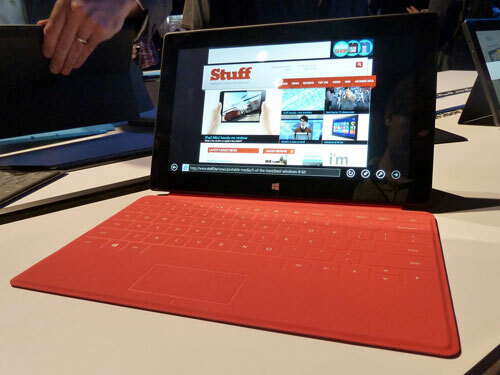 Build quality on the Surface is high; Microsoft has been talking this up as a 'watch-like' finish, and at the launch event, Surface designer Panos Panay dropped it from shoulder height, twice, in order to prove how sturdy it is. Apparently you can drop it in 72 different ways, and it won't break. The kickstand on the back does feel thin and bendy, because it's a thin, bendy piece of metal, and the Touch and Type covers magnetically attach with a satisfying sklonk.
Like the Kindle Fire HD, Surface has MIMO dual-band Wi-Fi, allowing it to gobble more bandwidth and connect from further away than other tablets. This is a major selling point, but some older connectivity is also included. Both microSD and USB are present, which is good, and the microSD slot will take 64GB cards. The fact that you can pay under 50 quid to add that much storage to Surface is a basic but important advantage over the iPad.  
One area in which Surface was never going to beat the iPad is in its display; the resolution is lower, and that's that. That said, the 1366×768 optically bonded Cleartype display is superb, with excellent contrast. It's also surprisingly large in the flesh, and couple with the 16:9 aspect ratio, this makes Surface a laptop-replacer in terms of watching movies on the train/plane/loo (oh come on, we've all done it).
The other factor that makes Surface a potential laptop-killer is the inclusion of a Touch or Type cover. The Touch cover, a 3mm thin cover of a felt-like material, is actually pretty nice to type on – you wouldn't want to knock out a novel on it, but it's up there with Transformer keyboards. The Type cover, on the other hand, is better than many laptop keyboards. Again, the fact that Surface is a fair size means the keys are less cramped than other tablet type-trays.
So, is the Surface an iPad killer? No. It doesn't have the apps and it doesn't have the screen. But is it a laptop killer? When you consider its speed, battery life, power (a quad-core processor and 2GB RAM), and the fact that it comes with the full Office 2013 suite for free, it could well be. You would have to really need the extra power to consider forking out for an ultrabook over this. And that's what makes it exciting: the fact that it's not a better version of the iPad, but something new, different and original. 
Windows 8 launch: hands-on with new Windows 8 hardware
LG Nexus 4 UK release date and pricing revealed