Motorola Xoom – official price revealed!
Form an orderly queue, Motorola's Xoom is up for pre-order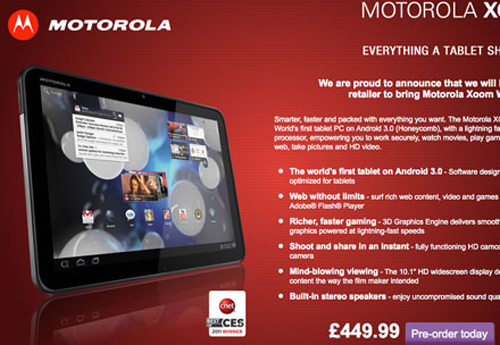 We've been left guessing when it comes to the price tag of the Motorola Xoom – but no more. PC World has just popped up a pre-order page for the world's first 10.1-inch Android 3.0 Honeycomb tablet, and it's asking £449.99 for the 32GB Wi-Fi model.
That's to pre-order, mind you: PC World doesn't give us a concrete date for the launch.
That's undercutting the equivalent iPad by £60. Not bad for something with a sharper, larger screen, a dual core processor, stereo speakers and a web browser that supports Flash. Check out our early impressions of the Xoom in our hands-on story from back in January.
Still, with Apple due to launch the iPad 2 tomorrow, the Xoom may not be the hottest tablet on the block for long.