Movie classics – The Breakfast Club (1985)
The Breakfast Club should have been the worst film ever made – five of the most broad-brush-stereotyped high school kids get put in the same detention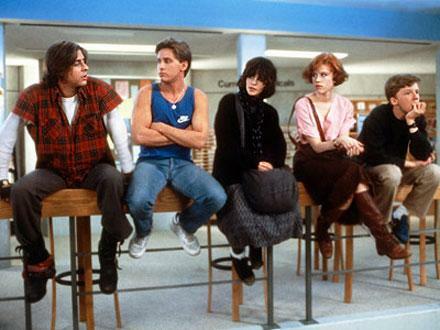 The Breakfast Club should have been the worst film ever made – five of the most broad-brush-stereotyped high school kids get put in the same detention. They're all radically different. But they find common ground. Puke.
And yet it wasn't just a mush of obvious heartstring-tugging rite of passage nonsense. Or, if it was, The Breakfast Club did it before it was a mechanical format trick pulled from the script template drawer for Hollywood high school flicks. That is to say it defined – if not invented – the teen genre as a journey of discovery. No Breakfast Club, no Dead Poet's Society. No Superbad. You get the picture.
The film launched the cast to stardom – this was the core of the Brat Pack in utero, along with the soppier St Elmo's Fire (also released in 1985). And its writer and director, John Hughes, would return to the the same school to use as a location for another film the following year – Ferris Bueller's Day Off.
Yes, it's dated, corny and the hairstyles are reason enough to pull all research grants for time travel. But The Breakfast Club is a bona fide gem that spawned a million imitators. And the original is still the best.
The Breakfast Club, on Blu-ray for £16 from Amazon