Multi-touch ebook interface concept demoed on iPad
Flipping cool – reading an eBook is about to take a step closer to the real thing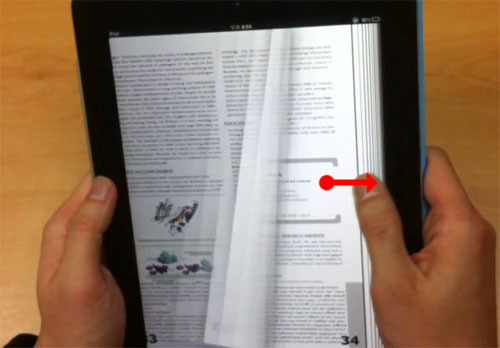 A new gesture-based multi-touch ebook reader concept running on everyone's favourite Apple-shaped rectangle has been doing the web rounds today, giving us a glimpse of how we can expect our digital reading experience on tablets to look in the near future.
Designed by the KAIST Institute of Information Technology Convergence, the idea of its patented ebook interface is to take us as close to the real thing as is physically possible. This means moving away from the simple page flip motion we're used to and replacing it with a number of alternative and interactive ways to navigate our digital books.
The new gestures include multiple page turns using multiple fingers, longer screen presses and swipes for quick flipping functionality, bookmarking your current page and sketching the page number with your fingertip for fast access to your page of choice.
We may be able to annotate, highlight and search for words, but there's no tactile thumbing, flicking or folding of pages that keeps paper books in favour with many bookworms. By addressing the navigational drawbacks of ebooks, KAIST hopes to change all this – that is if this interface ever sees the light of day.
According to Mac Rumours, the software's private API would prevent it from being accepted into the App Store. But with iBooks 2 officially outed last week, a gesture-based alternative will probably be available for tech-focused kids soon enough. Whatever the outcome, perusing through the pages of your favourite tome could be about to get a whole lot more interesting.
You can check out all the finger-swiping action in the video below.
Olympus prepping OM-D MFT camera for February 8
FileSonic has disabled file sharing following Megaupload's persecution
Viral of the week – Star Wars: A New Hope, full-length crowdsourced remake