MWC 2010 – Acer Liquid e announced
Acer's lifted the lid on its Mobile World Congress line-up, and there are a couple of gems in the offing.Leading the charge is the Liquid e, an Androi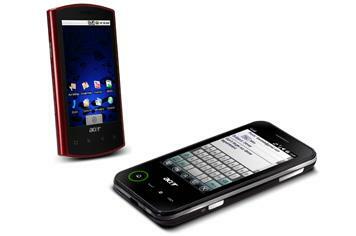 Acer's lifted the lid on its Mobile World Congress line-up, and there are a couple of gems in the offing.
Leading the charge is the Liquid e, an Android smartie following in the footsteps of last year's Liquid A1. But while the previous model was running an old version of Google's mobile OS (1.6 or Donut), the new hardware is iced with 2.1 Eclair goodness.
As you'd expect of a Liquid series phone, it motors along on the Snapdragon platform and has a 3.5in capacitive touchscreen. Plus it'll now support multitouch, thanks to that OS upgrade.
Bringing up the other end of mobile web, Acer also outed its dual-booting netbook system. It'll boot Aspire netbooks in Android and Windows, meaning instant-on access to quick tasks plus full fuction backing for heavier loads. The Aspire One 532G will also boast an HDMI port when it ships next month.
Elsewhere in Acer's mobile cabinet, the company upgraded its beTouch and neoTouch WinMo handsets, including the gorgeously thin 12mm neoTouch P400, coming in May.
Bookmark Stuff.tv for more details. Until then, let us know your thoughts by punching in a comment below and don't forget to keep an eye on our MWC 2010 Live Blog