MWC 2013 – Firefox OS review – hands on
We let our fingers get friendly with Mozilla's Firefox OS at Mobile World Congress. Click on through for our initial impressions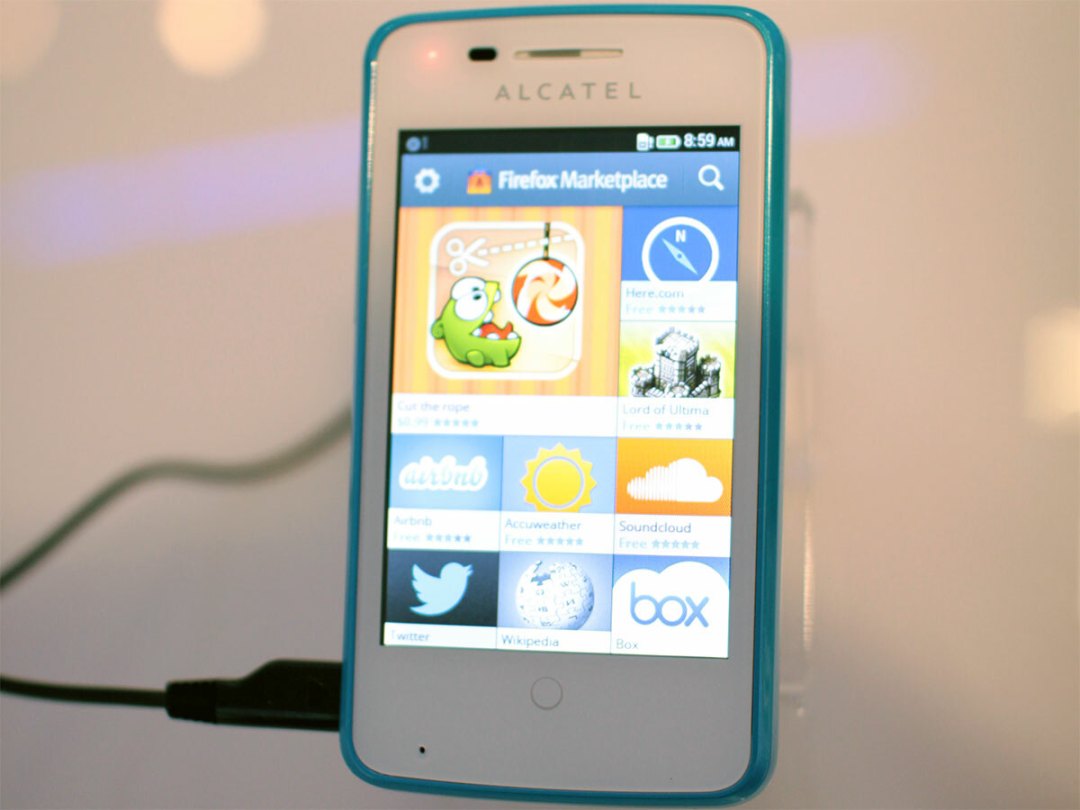 At its press conference at Mobile World Congress in Barcelona on Sunday night, Mozilla presented the OS it hopes will take on the hegemony of iOS and Android. Just this morning we caught wind of a Sony-forged Firefox OS smartphone due in 2014. Can this simple, web-based approach contend with the giants of the smartphone sphere? We took a swipe around it to find out..
Mozilla has fine, noble reasons for creating a smartphone OS. The iOS App Store and Google Play are closed shops; you can't sell apps in them without jumping through a bunch of hoops set by Apple or Google, and handing over a fistful of earnings in the process. Just as it created an open browser that toppled the mighty Internet Explorer, Mozilla has built an open smartphone OS to take on the Apple-Google duopoly. Developers can publish their apps straight to Firefox Marketplace without them being vetted, and they can sell or distribute them in any way they want. What's particularly nifty about Firefox OS apps is that don't need to be downloaded or installed. They run straight from the store, and you can install them if you want to use them offline.
Having said that, Firefox OS is not really aimed at you, and you probably don't really want it, because you already have an iPhone or an Android smartphone. The Foxphone, as Mozilla aren't calling it, is a cheap, open smartphone for the millions of Brazilians, Russians, Chinese and Eastern Europeans who haven't yet jumped on the smartphone smart-wagon. The first have been built by Huawei, ZTE, Alcatel and LG, and they're bargain blowers. The ZTE Open and Alcatel Fire we tried are small, low-res, low-power smartphones that will cost less than £70 when released.
The ZTE and Alcatel aren't bad. Well, they are, but they are also extremely cheap. The basic requirements of smartphone functionality – web browsing, maps and email – seem nicely done, and although we've not taken one for a drive, the maps look really quite promising. The UI is not very fast or fluid, because it's running on a very basic handset, but anyone who has used a smartphone will recognise it: there's a home screen, there are boards of apps.
The big advantage that Firefox has over Windows, BlackBerry and other third-way smartphones is its potentially limitless reserve of apps, which are woven from HTML5, making them more like websites than distinct pieces of software. According to Mozilla, if you're building a features-n-animation-laden HTML5 website, you are effectively building a Firefox OS app.
Sadly, the hardware ZTE and Alcatel have produced isn't doing it justice. We do admire Mozilla's open approach and we hope they persevere, but we disagree that it should just be a cheap thing for Emerging Markets. In this country at least, it's geeks (or Early Adopters, if you want to be a marketing person) who will want to use PhoneFox, but they won't want to use it on the ZTE Open or the Alcatel Fire. Hopefully when LG and Sony release their FoxPhones, they'll be a bit posher.