My Gadget Life – Howard Webb
England's World Cup ref on fitness tech and goal line gadgets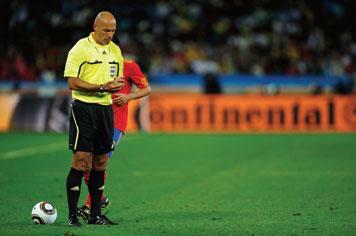 England's World Cup ref on fitness tech and goal line gadgets…
I trained hard for the World Cup
I spent a lot of time training in an environmental chamber, which replicates the high-altitude conditions found in some parts of South Africa. I use Polar heart rate monitors all the time. The latest one incorporates GPS and an altitude function, which takes all the guesswork out of training. They're also quite sturdy and hardwearing so I tend to wear them all the time – unless I'm going out somewhere posh.
In football, analysis is key
I get sent a disc from Pro Zone which has a full break down of the game. At the click of a button I can watch all the corners, free kicks, offsides, yellow cards, etc. Sometimes I'll see things on TV and think 'how did I miss that?' but the ultimate aim is to learn from it. Generally speaking, games look more straightforward when you watch them back.
I'm not against tech in football
Anything that makes the job more accurate is worth looking at. We just need to make sure the nature of the game doesn't change. The ball doesn't always go dead immediately after a controversial incident so at what point do you stop the game to look at a video replay? In terms of goal line technology, if it's totally reliable, accurate and instantaneous, then why not?
For the full interview with Howard Webb, pick up the next issue of Stuff magazine. In shops 4 August.
Howard Webb was talking on behalf of Polar heart rate monitors, official supplier to Professional Game Match Officials (PGMO). For more information visit www.polarelectro.co.uk
Pic: Jamie McDonald/Getty Images