Need to know – Skype 2.0
Skype has just launched the 2.0 version of its iPhone app, which boosts the original's skills by adding the much-appreciated ability to make VOIP calls via 3G. So what's up with Skype on iPhone? Let's break it down...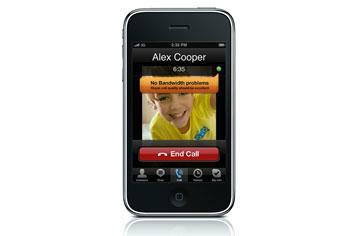 How long has Skype been out for iPhone?
The first official Skype iPhone app went live in March 2009. This let you make VoIP calls for free – but only via Wi-Fi – as well as join in Skype instant messaging sessions and conference calls. It also had a link to buy SkypeOut credit via the iPhone web browser.
SkypeOut?
It lets you make cut price calls to landline and mobile phones. It's brilliant for international calls, as they'll only be charged at local rate.
Okay, so the 2.0 version adds what?
It strips out the Wi-Fi only restriction, so you can now make Skype-to-Skype and SkypeOut calls over 3G. It also improves sound quality of Skype-to-Skype calls to "near CD-quality" (as long as you're using an iPhone 3GS, iPad or second gen iPod touch).
So hang on – that means free calls via 3G?
Yes, if you call another Skype user you don't need to pay a penny. Of course, there are the data charges from your mobile operator to consider.
So no hidden charges?
No, but this freeness doesn't go on forever. Skype has said that it will start charging a subscription fee for 3G Skype-to-Skype calling from 2011. We don't know how much just yet.
Are there any alternatives?
Yep. Fring is a third-party app that (among other things) already lets you make VoIP calls via 3G. In the US there are also the likes of Google Voice, although that isn't available on the iPhone.