New PSP Slim & Lite announced
One by one the rumours are coming true at E3 in Santa Monica. 80GB PS3? On the way. Xbox 360 Elite UK bound? Make that 24 August. And the one about th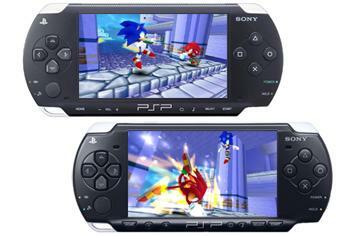 One by one the rumours are coming true at E3 in Santa Monica. 80GB PS3? On the way. Xbox 360 Elite UK bound? Make that 24 August. And the one about the PSP 'lite'? The tea leaves weren't lying, because here it is.
It may take a Spot The Difference champion to tell them apart but the one to the bottom right is the new PSP. Or is it the other way round? No, definitely right the first time.
Dubbed the PSP Slim & Lite it is, not surprisingly, thinner and, er, lighter than the original. Make that 33 per cent lighter and 19 per cent slimmer, to be precise, shaving 91g off the weight and 4mm off the thickness.
Although it's the same width across, look closely and you'll see there's also about 2.5mm been lopped from above the screen.
"Is that all?" you cry. Well no, as it happens. As we predicted the UMD slot stays, but some hardware tweaking has resulted in a "significant" increase in battery life and it now gets video out for hooking up to a telly for games and movies (who needs a PS3?) Load time during play has also been speeded up, thanks to a cunning ability to temporarily store game data from UMDs in its flash memory.
Oh and there are some new colours too. The standard Piano Black (pictured) and Ceramic White, plus Ice Silver, Felicia Blue, Lavender Purple (Mmm) and 'Rose Pink'. Although it seems that us Brits will be stuck with the monochrome choices for now. Rats… we wanted a lavender one.
Essentials
Sony PSP Slim & Lite
Price: £TBA
On sale: September
Contact: Sony
Related stories: