New Smart Cross Connect app set to take the strain out of inner-city parking
Diminutive new Smart ForTwo goes large on the community parking features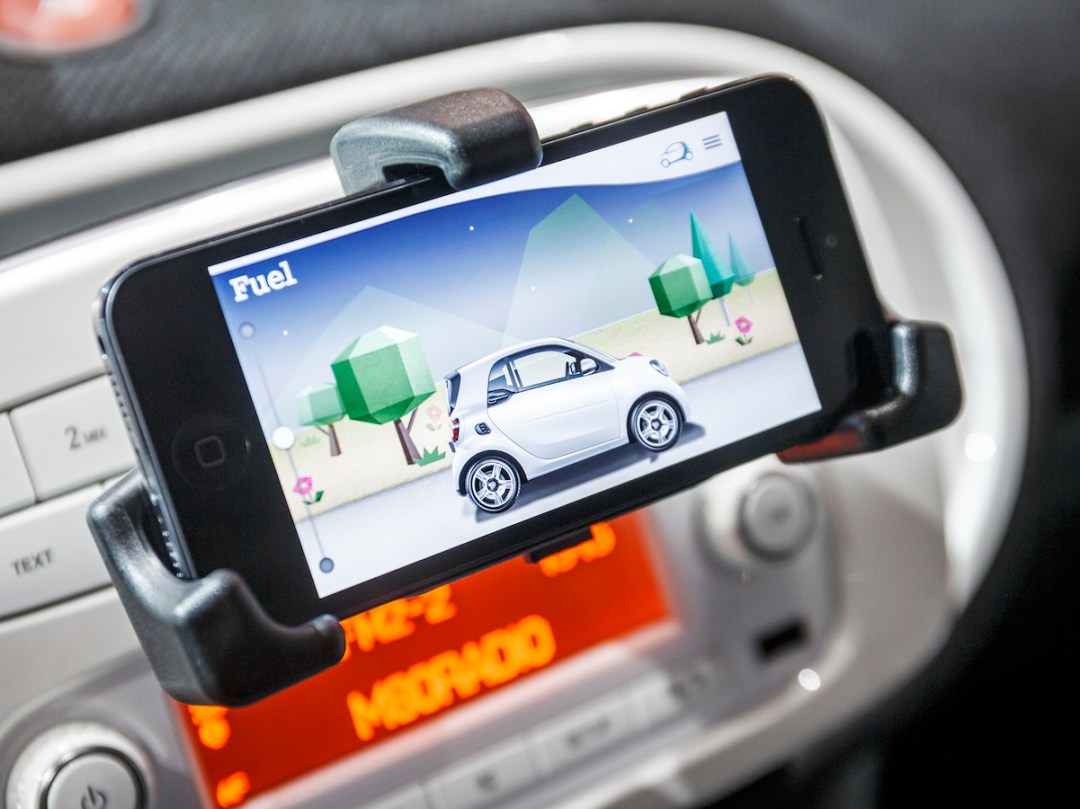 Most cities are so busy these days that hunting down a parking space can be a coronary-inducing affair. So let's salute Smart for trying to solve the problem. 
The compact city car offshoot of Mercedes-Benz has just revealed that its 2015 offering will pack some clever smartphone connectivity that attempts to make urban life on four wheels more pleasant.
A new app, named Cross Connect, gives owners of the new Smart ForTwo – and the four-door ForFour model – access to a number of smartphone features on the move. The handiest of them all being community parking.
Owners simply download the app to their Android or iOS devices, attach it to the adjustable cradle and sync to the built-in audio system. Once Cross Connect is fired up, drivers simply swipe to the community menu and let the app discover the closest available parking spaces, many of which are only suitable for the miniscule dimensions of the Smart car. 
The Smart-owning community can also upload suitable spaces with ease by snapping an image of said spot and registering the GPS co-ordinates with a click of a button. Smart's infotainment designers claim the community will help create a detailed database of Smart-sized parking spaces, some of which will be free of charge, across the world.
Naturally, there's a team of people sat in an office somewhere checking that miscreants aren't uploading images of discarded crisp packets and claiming they are suitable for housing a Smart car. But once the sport is verified, owners can locate the nearest space and have the navigation system direct to the destination with the minimum of fuss.
Smart isn't the only company attempting to make parking easier for drivers: apps such as AppyParking offer users the same kind of service, albeit across the board rather than specifically for Smart cars.
READ MORE: AppyParking will give you hours of your life back
Improved suspension set-ups, a more refined ride and a plucky selection of petrol engines are other notable improvements on the newest microscopic two-door city slicker, while the four-door version boasts a loading capacity that can swallow two Ikea 'Billy' bookshelves thanks to nifty adjustable seating.
Prices start at £11,125 for the two-seater ForTwo, while the smartphone cradle and audio system is a £500 extra. Expect to see the little critters parked in unusual places early next year.
READ MORE: Stuff's Top 10 cars