A New Zero – the FPS that creates its world on-the-fly
This independent videogame generates its setting procedurally as you play, and uses no animations – just physics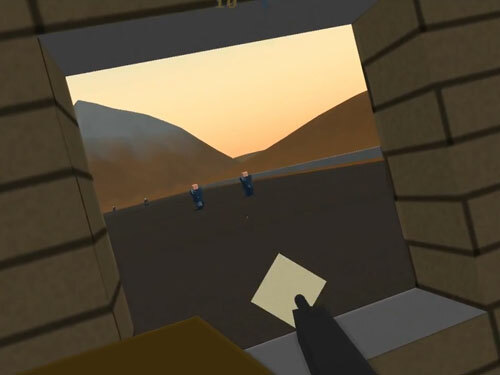 A New Zero is something of a departure for first-person shooters: it creates its world on the fly, using code to procedurally generate new areas for you to move into. There are no walls, visible or invisible, to stop you from seeing what's over the top of that hill or on the other side of that door.
The game is also physics based, with no death animations and the like – if you shoot someone, they fall over based on the physical properties they've been given. So essentially game design and scripting is out of the window here: the game largely designs itself as you play.
Of course, while this is a fine idea, in practice wandering around endless worlds shooting people with no rhyme or reason can get a little dull, so we wouldn't brand this "the future of game design" – for the foreseeable future, games will still require animators, designers and scripters to ensure the player has an enjoyable experience in a polished world. But procedural generation is certainly a compelling concept that seems destined to become a big part of many games in the future.
[A New Zero via New Scientist]
Toshiba opens pre-orders for its Windows 8 PCs
Google invites suggest October 29th is the day of the Nexus