News Nugget – Samsung Galaxy Tab on sale
Buying Sammy's iPad alternative? It's out today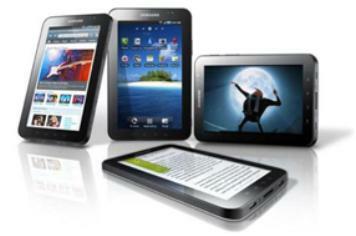 Samsung's Galaxy Tab is on sale today. We've already seen the £530 SIM-free price on Carphone Warehouse's site and Amazon is listing the 7in Android 2.2 slab for £670 (eek!) via a third party. Currys is also threatening to let the tablet out of the door for £530, though it doesn't seem to be available yet.
Carphone Warehouse is the only place currently offering contract deals, with a Talk Mobile £10 one-month contract with 1GB of data bringing the price down to £500, or a range of deals from 3 ranging from £17.50 to £40 per month (typically for two years) including 5GB of data. The price range for the tablet with one of those contracts wavers between £100 and £350.
O2 is also planning to offer an option, but is yet to let its price plans out of the bag.
UPDATE: Vodafone's just woken up – the Tab's available from them starting at £500, with price plans ranging from £3 to £25 a month for 1GB to 5GB of data.
UPDATE 2:Here comes Orange, flogging its Tabs for £530 on PAYG (5p per MB) or subsidising as much as £30 of that if you're prepared to sign up for a 12-month contract. It's not a big incentive, but the plans – at £5, £10 and £15 per month – are less of a long-term financial outlay than some of the other networks are offering.
UPDATE 3:After a leisurely breakfast, lunch, dinner, a kip and breakfast and lunch again, T-Mobile let out a yawn and mentioned that it too will be offering Samsung-flavoured tablets for for £530 on PAYG with data for £2 per day (or £15 for a month).
More from Stuff.tv
– Samsung Galaxy Tab UK price spotted
– Fast facts – Samsung Galaxy Tab
– First look – Samsung Galaxy Tab video