Nikon exposes the S80 and P7000
Are you a compact point-and-shooter or a bridge camera person? Nikon has both for you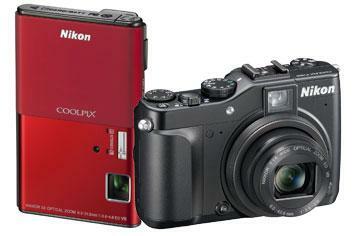 Nikon has pulled the wraps off two new cameras this morning – the S80 and the P7000.
First up is the S80, a compact cam with sliding cover to protect its lens when in your pocket. It's endowed with a massive 3.5in OLED multi-touch screen, 14.1MP CCD sensor and 5x optical zoom. It will also handle 720p HD video, with an HDMI port to pipe clips and pics to your TV when you're done.
It's out 7 October for £330 in black or red.
And then there's the P7000, a bridge camera that goes head-to-head with Canon's Powershot G range. It sees the world through a wide-angle 7.1x zoom NIKKOR lens with 28-200mm range and Nikon's VR optical image stabilisation, while inside lies a 10.1MP CCD sensor, and on the back is a large 3in LCD screen.
Taking its cues from Nikon's SLR range, the Coolpix P7000's in-camera Picture Controls allow you to get creative with bracketing, taking a series of shots with slightly different  exposure, white balance and ISO sensitivity to help you get that perfect shot. There's even a virtual horizon to line up with on screen to stop you taking wonky shots.
If you want to get serious with the night-time photography, the P7000 is compatible with Nikon's Speedlight flash units, and there's a wide-angle converter and remote control available too.
It's out 23 September for £490