Nokia C5 announced, new naming system comes into play
Nokia has announced the first in its long-rumoured C-Series, the Nokia C5, as well as a new naming convention for all its future smartphones.The candy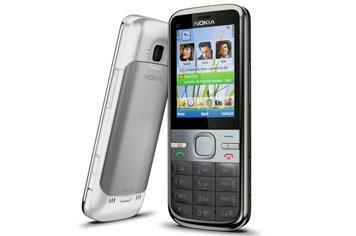 Nokia has announced the first in its long-rumoured C-Series, the Nokia C5, as well as a new naming convention for all its future smartphones.
The candy bar C5 packs a 2.2-inch display above a hard-button keypad, a 3.2-megapixel camera and Symbian S60 3rd edition on board.
Seemingly aimed at the low-end smartphone market with an "emphasis on social interaction" the C5 boasts a new phone book feature which will allow you to see your contacts' Facebook updates alongside the rest of their info, and the ability to place your three favourite contacts on your homescreen for speedy calling and texting.
The C5 will also benefit from Nokia's free sat nav service via Ovi Maps, and will allow users to keep in touch on their IM of choice through Nokia Messaging.
Nokia's C5 will launch in the second quarter this year in a choice of white and grey, with a 3GB microSD card in the box and support up to 16GB.
As for new naming conventions, you may have noticed a slight change in recent months of how Nokia is labelling its new devices.
It's now gone official with the details, confirming four series of devices – the C, X, E and N Series, each with its own area of emphasis.
For example the N Series will remain the flagship range for Nokia's most advanced products, the X Series will focus on entertainment, E Series will concentrate on business and productivity, while the C Series will stand for Nokia's core range of products.
The handsets within these series will then be numbered with a singular digit from 1-9, signifying the phone's functionality and therefore its approximate pricing (1 being lowest, 9 the highest).
We've seen this so far with the X3, X6 and of course today's, C5 – but are yet to see this in the E or N Series. Nokia noted this in its press release, teasing "we won't be commenting on when either of those might be happening". From that little comment, we don't think we'll have to wait too long.
While we wait to see what new E and N Series handsets we have to look forward to, let us know what you think to the C5. Could it tear you away from your touchscreen?