Nokia Lumia 920 – first impressions
We get up close and personal with Nokia's Windows 8-powered flagship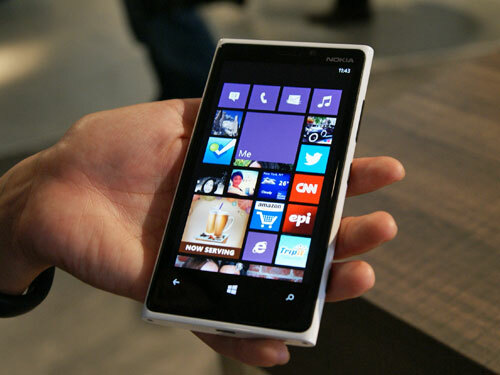 Nokia launched the Lumia 920 today, amid a great deal of fanfare and an appearance by bellowing Microsoft top dog Steve Ballmer. Once our ears had recovered from his foghorn-esque speech, we went to have a closer look at the phone.
The reps wouldn't let any journalists physically touch the device (well, they don't know where we've been, we suppose), but it certainly looks the part. Thin, sleek and with possibly the best screen we've seen on a new phone since the iPhone 4's Retina Display, it exudes the quality required of a flagship device.
Shame they wouldn't let us give it the "twist test" Nokia's Kevin Shields mentioned earlier when extolling its toughness.
One of the Lumia 920's big draws is its cable-free charging, and we saw it placed on a couple of devices. First was Nokia's own charger stand, which can be set to open a particular app – for instance the music player – automatically every time the phone is placed on it.
Then there's the JBL PowerUp, a charger that doubles as a wireless speaker. Looks nice, but we don't really know how it sounds or how much it costs.
We'll bring you our definitive opinion on the Nokia Lumia 920 as soon as we're sent a sample.
You may also like
New video! Humax DTR-T1000 YouView PVR reinvents the living room
Nokia unveils Lumia 820
New video! Sphero is the most sophisticated spherical toy in town