By numbers – Android vs iPhone
So, iPhone or Android – which is best?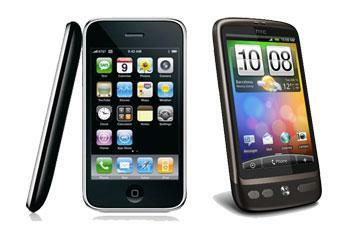 Last week Android ousted iPhone as the second highest selling smartphone platform in the US (after BlackBerry). Google is certain to be cock-a-hoop over the news, although the launch of a new iPhone model in the near future could tip the balance back in Apple's favour.
So, iPhone or Android – which is best? We've been crunching numbers like a house-sized 1950s computer to give you some insight into what the market reckons…
28 – percentage of handsets sold Stateside that run Android. The iPhone has a 21 percent share, while RIM's BlackBerry is still selling like hotcakes, with a chubby 36 percent share of the market.
150,000 – the number of US consumers polled online by NPD in order to come up with those figures. Apple claims this is a "very limited" sample and says it can see "no signs of the competition catching up any time soon." (Mee. Ow.)
51 million – iPhones sold worldwide since Apple launched the device in 2007. Android has only been around since October 2008, but sales figures published in February 2010 claim almost 8.5 million Android phones had been sold up to that point.
1 in 5 – ratio of new smartphones sold on contract in the UK that use Android, according to GfK.
34 – models of Android smartphone from 12 different manufacturers currently on sale, as opposed to only three models of iPhone – the 3G, 3GS 16GB and 3GS 32GB. Perhaps that goes some way to explaining Android's increasing market share.
65,000 – the (growing) number of Android phones that ship every day. That's two million a month, or 24 million per year. Apple reportedly ships 97,222 iPhones per day, and RIM 116,667 BlackBerries per day.
185,000 – the number of apps (roughly) that are available for iPhone, while the Android Market currently hosts around 20,000 apps. RIM's BlackBerry App World has less than 7,000 apps.
37.2 – the percentage of Android phones using the latest 2.1 version of the operating system, making it the most popular version at the time of writing. Coming next is Android 1.5, in use on 34.1 percent of Android devices.
1 – days until Google publicly unwraps Android 2.2 (FroYo). We hope.