Nvidia hints at quad-core smartphones at MWC
Nvidia's Mobile World Congress press invite shouts quad-core from the rooftops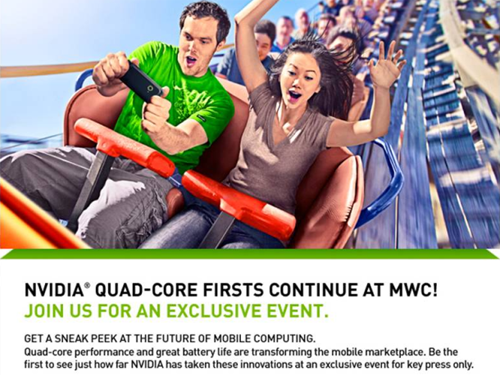 We're already expecting quad-core smartphones to take centre stage at MWC this year with both LG and HTC rumoured to be pulling back the curtain on a their own powerful Tegra 3 beasts.
Now, with MWC edging closer, Nvidia has added to our excitement with a press invite that promises a sneak peek at a bunch of quad-core firsts during the smartphone showcase.
As well as the potential unveiling of the first batch of quad-core Android smarties at MWC, online gossip also suggests the official outing of a quad-core slate from HTC.
As there isn't much to glean from the image – except a guy who's too engrossed in his phone to notice he's on a high-speed rollercoaster – expect us to bring your everything quad-core related from the front line in Barcelona at MWC. In the meantime, here's what we're expecting to see at the event.
Google Screenwise gives you cash for web tracking
iPad 3 to get bigger battery and iPad 2 build?
5 of the best iPhone 5 concepts