Pentax K-5 DSLR snaps into view
New camera based on K-7 brings HDR mode and 7fps shooting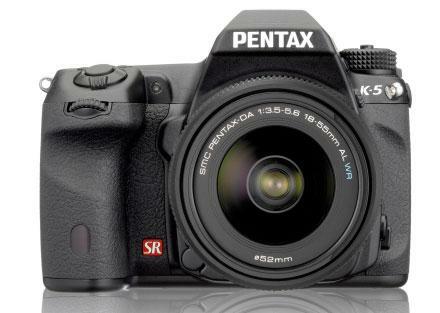 Pentax has just outed the K-5 DSLR today.
Based on the K-7 that was released in June 2009, the K-5 features a newly designed 16.2MP CMOS sensor that we're told matches the performance of Pentax's 645D medium-format camera.
Not just a fair weather snapper, the K-5 has a sturdy magnesium alloy body and stainless steel chassis that include 77 "special seals" to make it dustproof, weather-resistant and cold-resistant down to -10°C.
It has a seven frames-per-second high-speed shooting mode that records up to 22 images in a single sequence.
Also onboard are full 1080p HD video recording, a pentaprism viewfinder with nearly 100 percent field of view and an HDR (High Dynamic Range) function.
The Pentax K-7 goes on sale in late October, starting at £1200 with an 18-55mm WR lens.
Also announced today is the smc DA 18-135mm f/3.5-5.6 lens. Its zoom range (the equivalent to 27.5-207mm in the 35mm format) should make it a versatile piece of glass.
Inside is an extra-low dispersion glass element for better image detail and fewer aberrations, as well as a completely rounded diaphragm to produce a lovely, smooth bokeh (out of focus effect).
The Pentax smc DA 18-135mm will be available from November for £600