Red Dead Redemption: Outlaws To The End available for download
Got top cowboy 'em up Red Dead Redemption? Got some friends? Then you'll be happy to know that Outlaws To The End, the first real nugget of downloadab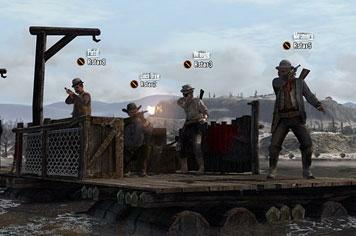 Got top cowboy 'em up Red Dead Redemption? Got some friends? Then you'll be happy to know that Outlaws To The End, the first real nugget of downloadable content for Rockstar Games' free-roaming cowboy epic, is now available – and it won't cost you nary a single silver dollar, pardner.
Yep, it's free, and it's available on both Xbox Live and the PlayStation Network. Outlaws To The End is multiplayer only, and adds six new cooperative missions – to be played with up to three other players – to the game.
These missions include invading a mine to grab a gang's gold, storming a fort to rescue a farmer's daughter and riding a raft downriver while under fire from Mexican rebels. All in a day's work for any self-respecting cowboy, in other words.
Now read what we thought about Red Dead Redemption's incredible musical score.